»
Go to news main
Dalhousie researchers help NS company launch eel aquaculture business
Posted by
Melanie Jollymore
on August 2, 2017 in
News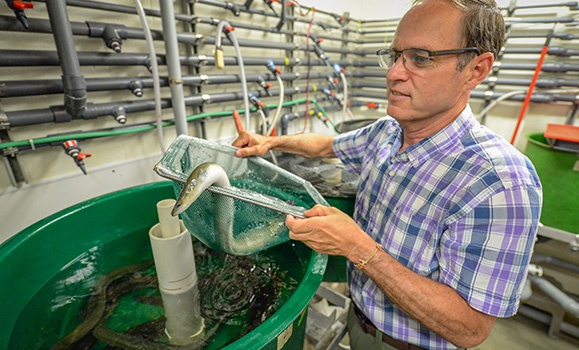 Halifax-based company, NovaEel Inc., is targeting the insatiable Japanese market for eel, or unagi, which has relied heavily on China and Europe since overfishing its own stocks of immature eels ("glass eels") some 50 years ago.
Those producers, too, have since overfished their wild baby eels. This makes an opening for Nova Scotia, where the glass eel fishery is sustainable and well-regulated. With the rapid growth in Japanese cuisine and sushi worldwide, there is large demand for eels. 
"We'd be nowhere on this project without Dalhousie," says Dr. Neil Ross, NovaEel's research director, adding that staff members at the university's Aquatron are also key players in the company's research and development efforts. "There's no way we could purchase the sophisticated facilities or develop and conduct that kind of testing on our own—we need our academic partners."
Read more on Dal News.