»
Go to news main
Dal researchers shine at 15th annual Discovery Awards
Posted by
Michele Charlton, Nicole LeBlanc, Dawn Morrison and Anja Samardzic
on November 27, 2017 in
News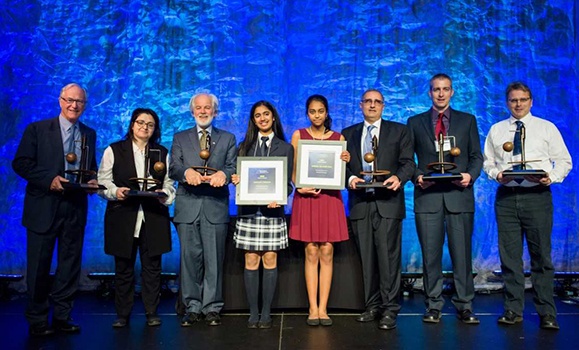 The Discovery Awards, which are hosted by Halifax's Discovery Centre, are an annual event that recognizes talented individuals and outstanding companies that have helped to make Nova Scotia a leader in science, technology and innovation. This year, the awards were sponsored by Dalhousie. 
Innovation Award: Densitas Inc – Mohamed Abdolell
| | |
| --- | --- |
| | Densitas Inc. is an early stage medical software company focused on machine-learning solutions in the breast imaging enterprise, and sees digital mammograms as "imaging fingerprints" that enable tailored patient care. Densitas was founded in 2011 by Mohamed (Mo) Abdolell, a biostatistician with 25 years' experience in modeling data for clinical decision-making, and currently also an Associate Professor in the Department of Diagnostic Radiology at Dalhousie University. Densitas' flagship technology is DM-Density, an automated breast density assessment tool that serves as the foundational product for a suite of technologies that complete a comprehensive imaging analytics platform targeting mammography quality and delivery of personalized care. Densitas' goal is to empower radiologists and hospital administrators to confidently navigate the rapid shift from a volume to a value-based model of care delivery. In an environment of strict fiscal constraints, Densitas' ability to support appropriate patient management based on individualized risk has the potential to radically change how patient care in breast cancer screening practice is delivered in Nova Scotia and globally.   |
Dr. Patrick McGrath (Professional of Distinction finalist) is the Canada Research Chair in Pediatric Pain at Dalhousie University and the IWK Health Centre, and is known internationally for his extensive research in pain management and treatment in children and adolescents. McGrath uses brain waves to measure pain in children with severe cognitive impairment, then seeks efficient and effective delivery techniques to treat pain. His distance and web based interventions offer a convenient method of support to families through phone and Internet. In addition to being a professor of science, pediatrics, psychiatry, and community health and epidemiology at Dalhousie, McGrath's accomplishments include founding and leading the clinical psychology PhD program at Dal, and launching the Strongest Family Institute alongside Dr. Patricia Lingley-Pottie. 
Read more on Dal News.