»
Go to news main
Canadian Medical Hall of Fame Award: Vivian Tan
Posted by
Jason Bremner
on July 29, 2020 in
News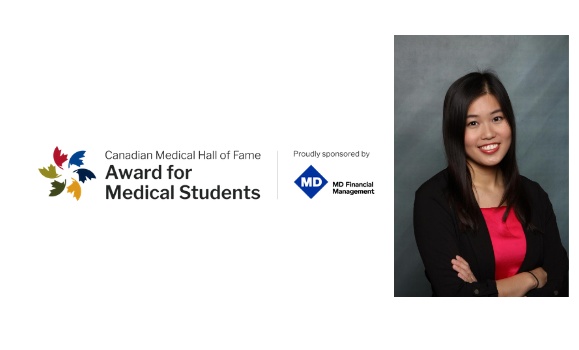 Second-year medical students with an established track record of community leadership, superior communication skills and demonstrated interest in advancing knowledge are recognized annually with the Canadian Medical Hall of Fame (CMHF) Award. Each recipient typically receives a cash prize of $5,000 and a travel subsidy to attend the annual Canadian Medical Hall of Fame Induction Ceremony, where they would have the opportunity to meet CMHF Laureates and interact with health leaders from across the country. However, due to the COVID-19 pandemic, those plans have been put on hold.
In 2019, Vivian Tan was selected as Dalhousie's recipient.
Prior to attending Dalhousie Medical School, Vivian completed a Bachelor of Medical Sciences (Medical Health Informatics) at Western University. She has clinical research training at the Institute for Clinical Evaluative Sciences, Ontario Drug Policy Research Network and the Nova Scotia Breast Screening Program.
Vivian aspires to contribute to efforts in improving quality of life and healthcare delivery, and she has conducted research regarding access to medications, social determinants of health and promoting health in disadvantaged populations. Her work has led her to be on a delegation to the Executive Board Meeting of the World Health Organization. Vivian is also actively engaged with her medical school community and was recently elected as a VP Communications, Board of Director on the Canadian Federation of Medical Students.
"It is such an honour to receive this award and to be recognized by the Canadian Medical Hall of Fame," said Vivian. "I am extremely grateful for the support I have receive over the past several years, especially from Dalhousie University."
The Canadian Medical Hall of Fame partners with donors, MD Financial Management and Canada's medical schools to recognize young leaders who exemplify qualities of CMHF Laureates: perseverance, collaboration and an entrepreneurial spirit. 
"We celebrate the achievements of the giants of health care in Canada to fuel our pride, but also to inspire the next generation of health leaders with world changing potential," said Dr. Bryce Taylor, CMHF Board Chair. "The outstanding feedback we continue to receive from our Award recipients about the impact of this award and networking at the induction ceremony confirm for us the importance of this initiative." 
Scotiabank, MD Financial Management Inc. and the Canadian Medical Association support the CMHF, one of several initiatives that comprise a 10-year, $115 million commitment to supporting the medical profession and advancing health in Canada.
"MD has been dedicated to the physician community for 50 years and is proud to support the next generation of physicians through the CMHF award program," said MD CEO and President Brian Peters. "Such talent and drive among medical students bode well for the future of Canada's health care system."
Each of Canada's faculties of medicine/health sciences facilitated the review of applicants and recommended one award recipient. Three letters of support are required by applicants including a non-academic community reference describing their community impact, along with a 1,000-word essay describing why they should be considered for the Award and articulating the qualities of the CMHF Laureate who inspires them most. 
The 2020 recipients of the Canadian Medical Hall of Fame Award will be announced in late August.
For the full list of recipients, visit: http://www.cdnmedhall.org/2019awardrecipients