Canadian Medical Hall of Fame Award: Freddy Lee
»
Go to news main
Honouring and Inspiring a New Generation of Health Leaders and Innovators
Posted by
Jason Bremner
on August 27, 2020 in
News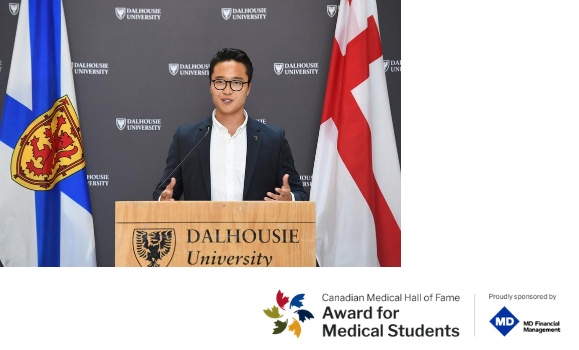 Second year medical students across the country with an established track record of community leadership, superior communication skills and demonstrated interest in advancing knowledge were recognized on August 27th with the Canadian Medical Hall of Fame (CMHF) Award.
Freddy Lee was named the 2020 recipient from Dalhousie Medical School.
Acting on his strong commitment to student advocacy and organizational leadership, Freddy served as president of the Dalhousie Medical Student Society and represents the student body on faculty-level and national committees with a focus on diversity and inclusion, student well-being and supportive learning environments.
Freddy's leadership has enabled him to support energetic ideas with an accelerated turnaround by providing consultation, resources and a pilot fund to promote student research while reducing out-of-pocket expenses. Freddy has a keen interest in research focused on optimizing patient care through innovative technologies and hopes to contribute at the forefront of health care with a practice driven by his passion for patient advocacy, medical research and innovation.
"When I heard the news that I would be receiving this award I was just so grateful," says Freddy, who was also quick to thank the Undergraduate Medical Education Awards Committee for the time they spent reviewing all the exceptional applications. "I know that it must have been hard work on top of all the excellent work they do!"
Each recipient receives a cash prize of $5,000 and a travel subsidy to attend the 2021 Canadian Medical Hall of Fame Induction Ceremony in Vancouver BC where they will have the opportunity to meet CMHF Laureates and interact with health leaders from across the country.
The Canadian Medical Hall of Fame partners with donors, MD Financial Management Inc. (MD) and Canada's medical schools to recognize young leaders who exemplify qualities of CMHF Laureates: perseverance, collaboration and an entrepreneurial spirit.
"MD is proud to support the next generation of Canadian physicians through the CMHF Award program," said MD President and CEO Daniel Labonté. "The passion, commitment and talent of today's medical students is truly remarkable. I am confident that Canada's future health care system will be in very good hands with inspirational leaders such as these."
Each of Canada's faculties of medicine | health sciences facilitated the review of applicants and recommended one award recipient. Three letters of support are required by applicants including a non-academic community reference describing their community impact, along with a 1,000 word essay describing why they should be considered for the Award and articulating the qualities of the CMHF Laureate who inspires them most.
"Looking at all of the past laureates, there are so many distinguished physicians and researchers in their field," says Freddy. "To receive this award from the Canadian Medical Hall of Fame is such an honour."
For the full list of recipients, please visit the Canadian Medical Hall of Fame website
ABOUT THE CANADIAN MEDICAL HALL OF FAME
The Canadian Medical Hall of Fame (CMHF) celebrates Canadian heroes whose work advances health in Canada and the world, and fosters future generations of health professionals through the delivery of local and national youth education programs and awards. This enduring tribute to our country's rich medical history is showcased on our virtual hall online at www.cdnmedhall.org and in an exhibit hall in London, ON.