Honouring and Inspiring a New Generation of Health Leaders and Innovators
»
Go to news main
Canadian Medical Hall of Fame Award: Kathleen MacMillan
Posted by
Jason Bremner with files from the CMHF
on August 26, 2021 in
News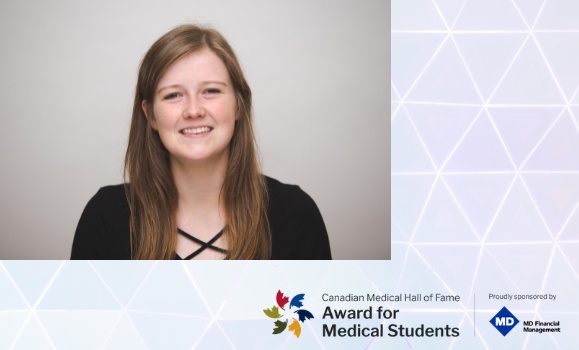 Second year medical students with an established track record of community leadership, superior communication skills and demonstrated interest in advancing knowledge were recognized on August 25, 2021, with the Canadian Medical Hall of Fame (CMHF) Award. Each recipient receives a cash prize of $5,000 and a travel subsidy to attend the 2022 Canadian Medical Hall of Fame Induction Ceremony in Ottawa, Ontario where they will have the opportunity to meet CMHF Laureates and interact with health leaders from across the country.
The Canadian Medical Hall of Fame partners with donors, MD Financial Management Inc. (MD) and Canada's medical schools to recognize young leaders who exemplify qualities of CMHF Laureates: perseverance, collaboration, and an entrepreneurial spirit.
"I am humbled to have been selected for this award and feel very proud to be the first Dalhousie Medicine New Brunswick student to receive it," said Kathleen MacMillan, CMHF Award recipient from Dalhousie University. "I am incredibly thankful for the guidance and support of my family, friends, mentors, and the Dalhousie University community."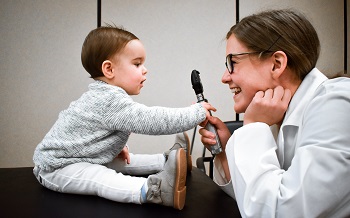 Kathleen MacMillan serves as Co-President of the Dalhousie Medicine Class of 2023. A licensed pharmacist who obtained her degree from Dalhousie University, Kathleen received several awards during pharmacy school, including the Canadian Pharmacists Association Centennial Leadership Award. Kathleen currently juggles several responsibilities from leading the Canadian Federation of Medical Students Atlantic Task Force to serving on the Dalhousie Medicine Admissions Committee –as well as positions with the Canadian Association of Radiologists Medical Student Network and various networks within the Association of Faculties of Medicine of Canada.
Each of Canada's faculties of medicine facilitated the review of applicants and recommended one award recipient. Three letters of support are required by applicants including a non-academic community reference describing their community impact, along with a 1,000 word essay describing why they should be considered for the Award and articulating the qualities of the CMHF Laureate who inspires them most. At Dalhousie, the Dalhousie Medical Alumni Association facilitates the review.
"The CMHF Award is very prestigious and we in the alumni community could not be more proud of Kathleen," said Dr. Kathy O'Brien (MD '87), president of the Dalhousie Medical Alumni Association. "Not only has she excelled academically, she has demonstrated a selfless commitment to her profession and to improving health care in her community, and she is a natural leader among her peers and colleagues, and we look forward to welcoming her into the Dal Medicine alumni family in the very near future."
At the height of the COVID-19 pandemic, Kathleen co-founded Dalhousie Students for Healthcare Providers to encourage health care professional students to volunteer to assist health care providers with childcare and errands. Inspired by CMHF Laureate Dr. Annette O'Connor, Kathleen shares her passion for interprofessional collaboration, research and shared decision-making, and aspires to become a clinician-scientist who promotes these ideals.