News
»
Go to news main
Royal Society of Canada recognizes research excellence at Dalhousie
Posted by
Michele Charlton
on September 8, 2021 in
News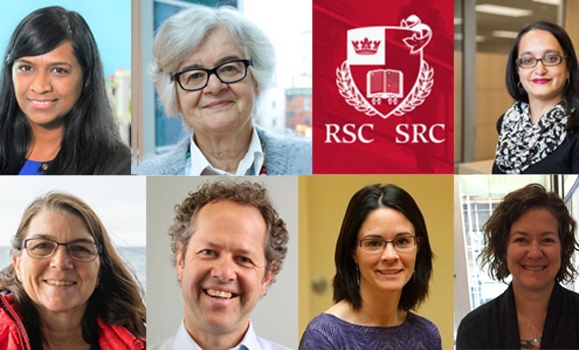 Seven world-class researchers from Dalhousie have been recognized by the Royal Society of Canada (RSC) for their outstanding scholarly, scientific and artistic achievement. This includes three Fellows and four new members of the College of New Scholars, Artists and Scientists — one of the largest cohorts ever from the university.

Dalhousie's newest Fellows are Julie LaRoche (Faculty of Science), Noni MacDonald (Faculty of Medicine), and Boris Worm (Faculty of Science).

According to the Royal Society of Canada, there are currently almost 2500 active Fellows — Canadian scholars, artists, and scientists, peer-elected as the best in their field, who are making remarkable contributions in the arts, the humanities and the sciences, as well as in Canadian public life.

Dalhousie's four new College members are Lisa Binkley (Faculty of Arts and Social Sciences), Mita Dasog (Faculty of Science), Noreen Kamal (Faculty of Engineering), and Debbie Martin (Faculty of Health).

Those named to the College represent the emerging generation of scholarly, scientific and artistic leadership in Canada. They address issues of concern to new scholars, artists and scientists, for the advancement of understanding and the benefit of society.

"I am very proud to have seven incredibly talented researchers from Dalhousie recognized by the Royal Society of Canada," says Alice Aiken, Dal's vice president research and innovation at Dalhousie. "Their contributions are impacting our province, our country and the world. Congratulations to our newest Fellows and College members on this well-deserved honour."

The 2021 cohort will be inducted into the Royal Society of Canada in November during the annual Celebration of Excellence and Engagement, which will be held in partnership with McGill University.

Learn more about Dalhousie's newest Royal Society of Canada Fellows and College members:

Dr. Julie LaRoche, Faculty of Science (Fellow)

After obtaining her Ph.D.in Biology from Dalhousie University, Dr. LaRoche worked in New York and Germany before returning to Dalhousie to occupy the Tier 1 Canada Research Chair in Marine Biogeochemistry and Microbial Genomics.

Dr. LaRoche's research is leading to improved detection systems to monitor the overall diversity and function of microbial communities in the ocean. Her work will help maintain human and environment health in the face of unprecedented global climate change.
Dr. Noni MacDonald, Faculty of Medicine (Fellow)

A medical pioneer, Dr. MacDonald was the first pediatrician in Canada certified in pediatric infectious diseases by the Royal College of Physicians and Surgeons of Canada. She founded the Division of Infectious Diseases at the University of Ottawa in 1981 and led the Pediatric Infectious Diseases Service at the Children's Hospital of Eastern Ontario in Ottawa.

She came to Halifax to serve as Dean of the Faculty of Medicine – the first woman in Canada to lead a medical school. Following her deanship, she co-founded the Canadian Center for Vaccinology in 2004, where she is still an active member.
Dr. Boris Worm, Faculty of Science (Fellow)

Dr. Worm's research focuses on the causes and consequences of changes in marine biodiversity and the importance of its conservation on a global scale. He is particularly well known for his studies on the global effects of fishing and climate change on ocean ecosystems.

He is a frequent commentator on marine scientific issues on CBC radio and television and has contributed to a number of award-winning feature documentaries, such as End of the Line, Sharkwater, and Racing Extinction.
Dr. Lisa Binkley, Faculty of Arts and Social Sciences (College member)

Dr. Binkley's work focuses on Indigenous and settler textiles as material culture, and repatriation. She has published on settler and Indigenous quilts, Haudenosaunee quilts and public exhibitions, Star blankets and critical Indigenous heritage.

She is currently part of three SSHRC-funded projects that explore a disruption of the Western literary and art historical canons through Indigenous perspectives, Climate Grief, and the examination of textiles and architecture through augmented reality. She is also conducting research that aims to decolonize and remap the fur trade route through an interrogation of handmade footwear and, through a partnership with the Mi'kmawey Debert Centre, is looking to repatriate, digitize, and share community histories and knowledges.
Dr. Mita Dasog, Faculty of Science (College member)

Dr. Dasog's internationally recognized research program in the Faculty of Science has the potential for significant impact on global issues including dependence on fossil fuels and access to freshwater.

Her research group explores materials for use in clean-energy applications and focuses on developing materials for use in devices that convert solar energy to chemical energy – precisely what photosynthesis does in nature. Mimicking photosynthesis with synthetic inorganic materials is an up-and-coming approach to harvesting solar energy.
Dr. Noreen Kamal, Faculty of Engineering (College member)

Dr. Kamal is a recognized leader in improving processes to ensure timely treatment of stroke patients, thus significantly improving their health outcomes. She has applied her Industrial Engineering expertise to improving health systems so that valuable moments are saved between hospital arrival time, diagnosis, and treatment – time savings that are critical because approximately 1.9 million neurons are lost every minute in an average stroke.

Dr. Kamal's research has brought to light the importance of interdisciplinary collaboration to ensure that health systems are designed, improved, and optimized to bring about best outcomes for patients. 
Dr. Debbie Martin, Faculty of Health (College member)

Dr. Martin's program of research is aimed at preventing chronic diseases that are experienced at a disproportionately higher rate among Indigenous peoples relative to their non-Indigenous counterparts within Canada.

Working directly with Indigenous communities, Dr. Martin identifies and addresses key community and societal level determinants that are often linked to lifestyle factors that ultimately cause chronic diseases. High cost and limited availability of nutritious and culturally appropriate foods, for example, often limits food choices, putting people at risk for debilitating, costly, and preventable chronic diseases such as obesity, diabetes, and certain cancers.

A key feature of Dr. Martin's work is her deep understanding of the importance of community engagement and using Indigenous 'ways of knowing' (methodologies) to inform the research process.

For more information, visit the Royal Society of Canada website.