Juan
Zhou
Associate Professor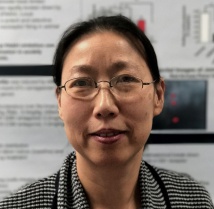 Email:
juan.zhou@dal.ca
Phone:
902-494-4359
Fax:
902-494-2493
Mailing Address:
5850 College Street, 14A Sir Charles Tupper Medical Building Halifax Nova Scotia B3H 1X5 Canada

Research Topics:
Immunology
T regulatory cells
Inflammation
Cannabinoids
Iron chelation
Immunosuppression
Transplantation tolerance
Education
MD, Xi'an Jiaotong University, Xian, China
MSc, Dalhousie University, Halifax, Canada
PhD, Dalhousie University, Halifax, Canada
Research interests
Professor Zhou's research interests include investigating the role of endocannabinoid system in immune regulation in inflammation disorders (e.g., experimental sepsis, interstitial cystitis, central nerve system injury-induced immunosuppression), development of new pharmacological approaches for inflammation, and immunomodulation in transplantation tolerance.  
Selected publications
Zhou J, Burkovskiy I, Yang H, Sardinha J, Lehmann C. CB2 and GPR55 receptors as therapeutic targets for systemic immune dysregulation. Front Pharmacol. 2016;7:264. doi: 10.3389/fphar.2016.00264.
Lehmann C, Fisher NB, Tugwell B, Szczesniak A, Kelly M, Zhou J. Experimental cannabidiol treatment reduces early pancreatic inflammation in type 1 diabetes. Clin Hemorheol Microcirc. 2016;64:655-662. doi: 10.3233/CH-168021.
Zhou J, Soltow M, Zimmermann K, Pavlovic D, Johnston B, Lehmann C. Experimental TLR4 inhibition improves intestinal microcirculation in endotoxemic rats. Microvasc Res. 2015;101:33-7. doi: 10.1016/j.mvr.2015.06.004.
Ismaiel NM, Chankalal R, Zhou J, Henzler D. Using remifentanil in mechanically ventilated rats to provide continuous analgosedation. J Am Assoc Lab Anim Sci. 2012;51:58-62. PubMed ID: 22330869.
Memberships
International Cannabinoid Research Society
Shock Society
Canadian Society of Immunology
Service & activity
Editorial Board member: Frontiers in Pharmacology, Clinical Hemorheology and Microcirculation.
Reviewer for 6 scientific journals.