Orlando

Hung

,

MD, FRCPC
Professor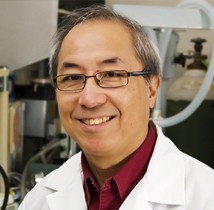 Email:
orlando.hung@dal.ca
Phone:
902-473-7767
Fax:
902-473-4493
Mailing Address:
Victoria General Hospital
1276 South Park 10th Floor, North, Rm 275
Halifax, NS B3H 2Y9

Research Topics:
Airway management
Clinical pharmacology
Drug delivery systems

Administrative Roles
Staff anesthesiologist - QEII Health Sciences Centre, Halifax
Research interests
Dr. Hung focuses on airway management, clinical pharmacology and drug delivery systems. Through collaborations with other clinicians and scientists at Dalhousie, Stanford, and the University of Toronto, Dr. Hung has developed and patented a number of innovative drug delivery systems and medical devices.
Selected publications
Hung OR, Stewart RD: Lightwand Intubation: I. A new intubating device.  Can J Anaesth 1995;42:820-5.
Hung OR, Pytka S, Morris I, Murphy MF, Launcelott G, Stevens SC, MacKay W, Stewart RD: Clinical trial of a new lightwand (TrachlightTM) to intubate the trachea.  Anesthesiology 1995;83(3):509-514.
Hung OR, Whynot SC, Varvel JR, Shafer SL, Mezei M:  Pharmacokinetics of inhaled liposome-encapsulated fentanyl. Anesthesiology 1995;83:277-284.
Mulcaster J, Mills J, Hung OR, et al. Evaluation of proficiency of laryngoscopic intubation by novice intubators. Anesthesiology 2003;98(1):23-7.
Szczesniak A, Kelly MEM, Whynot, S, Shek P, Hung OR. Ocular Hypotensive Effects of an Intratracheally Delivered Liposomal )9-Tetrahydrocannabinol Preparation in Rats. Journal of Ocular Pharmacology and Therapeutics 2006 2:160-7.
Selected awards and honours
Research Award in Anesthesia, Canadian Anesthesiologists' Society (1992, 1997, 2002)
Teacher of the Year (1993), Dalhousie Faculty of Medicine
Mentor of the Year, Department of Anesthesia, Pain Management & Perioperative Medicine
Excellence in Teaching Award (2005), Professional Association of Residents in the Maritime Provinces
Selected memberships / Service and activity
Member, Editorial Board, Canadian Journal of Anesthesia for the past 9 years
Co-author of the textbook, Management of the Difficult and Failed Airway