Peter Dolphin Memorial Prize in Biochemistry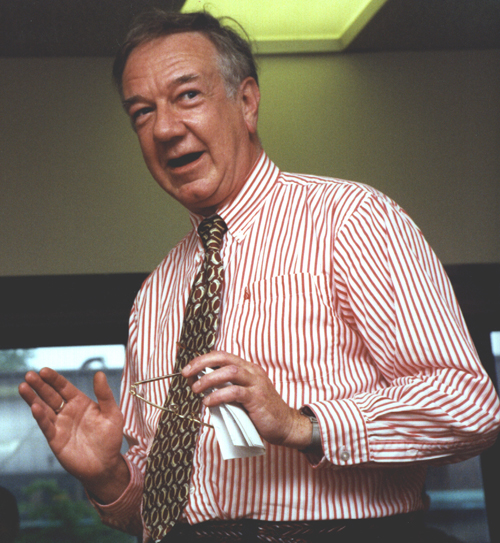 This prize is awarded to the fourth year student in the Honours Program in Biochemistry & Molecular Biology who is judged to have the best overall performance in the Honours Research Project.
Born in Derby, England, Dr. Dolphin was educated at the University of Southampton. He served as a Scientist with the National Institute for Medical Research in London, England before emigrating to Canada in 1972 as a post-doctoral fellow with the Department of Biochemistry at McGill University, where he went on to become a Research Associate and Assistant Professor. He joined Dalhousie's Department of Biochemistry in 1978.
In the more than 20 years he served at Dalhousie, Dr. Dolphin contributed significantly to research and education, while maintaining a steady contribution in a variety of administrative roles. His research interests resulted in nearly 90 peer-reviewed publications in prestigious scientific journals relating to biochemistry, lipid metabolism, and cardiovascular disease. For more than two decades, his ongoing research was been supported by a sustained level of operational funding from highly competitive national agencies, and included many productive international collaborations.
Dr. Dolphin served on national and international committees at executive levels, including as Regional Director of the Medical Research Council of Canada, Regional Director of the Canadian Institute for Health Research, and President of the Canadian Federation of Biological Societies.
Among Dr. Dolphin's notable characteristics were his ability and willingness to offer opinions and perspectives that challenged traditional approaches. He could always be counted on for a thought provoking contribution that quickly drew attention to components of the issue that might have been otherwise overlooked.
Join us in celebrating the accomplishments of our top students.
| Year | Student |
| --- | --- |
| 2023 | Charlotte Maclean |
| 2022 | Katie Halliday |
| 2021 | Joshua Hayden |
| 2020 | Noa Sorbara |
| 2019 | Kathleen Vergunst |
| 2018 | Morgan Colp |
| 2017 | Zoe Kirste |
| 2016 | Zachary Morrison |
| 2015 | Kathleen Orrell |
| 2014 | Elizabeth Lake |
| 2013 | Matthew Foss |
| 2012 | Aled Iaboni |
| 2011 | Ryan Marko & Elizabeth Polvi |
| 2010 | Grant Stevens |
| 2009 | Courtney Stairs |
| 2008 | Christine Sharp |
| 2007 | Rosemary Kepkay |
| 2006 | Brandi Mahaney |
| 2005 | Tyler Reddy |