Sultan

Darvesh

,

MD, PhD, FRCPC
Professor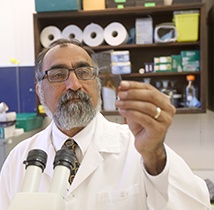 Phone:
902-473-2490
Fax:
902-473-7133
Mailing Address:
Suite 1308 Veterans' Memorial Building
5955 Veterans' Memorial Lane
Halifax, NS B3H 2E1

Research Topics:
Alzheimer's disease
Diagnostic and therapeutic agents for dementia
Butyrylcholinesterase
Neurodegenerative disease
Neuroimaging
Neurochemistry
Medicinal chemistry
Enzyme kinetics
Behavioural neurology
Brain banking
Education
PhD, University of New Brunswick (organic chemistry)
Postdoctoral fellowship, University of New Brunswick (molecular biology)
MD, Dalhousie University
FRCPC, Dalhousie University (neurology)
Fellowship, Baycrest Centre for Geriatric Care, University of Toronto (Behavioural/Cognitive neurology)
Research interests
Dr. Darvesh is a behavioural neurologist and trained organic chemist with interest in medicinal chemistry. His research has been instrumental in determining the importance and expression of butyrylcholinesterase in the human brain. His research focus is the development of therapeutic and diagnostic agents for Alzheimer's disease, with butyrylcholinesterase as the target.
Selected publications
Selected awards and honours
Research Lifetime Achievement Award, Department of Medicine, Dalhousie University (2016)
DMRF Gunn Family Research Prize, Dalhousie Medical Research Foundation (2016)
Dalhousie Medical Research Foundation Irene MacDonald Sobey Endowed Chair in Curative Approaches to Alzheimer's Disease, Faculty of Medicine, Dalhousie University (2014)
Award for 20 Years of Service and Dedication, Alzheimer Society of Nova Scotia (2014)
Excellence in Research Award, Department of Medicine, Dalhousie University (2005)
Employment
Academic
Professor, Department of Medicine (Neurology and Geriatric Medicine), Department of Medical Neuroscience, Dalhousie University
Assistant Dean, Research - Clinical Departments, Faculty of Medicine, Dalhousie University
Adjunct Professor, Department of Chemistry and Physics, Faculty of Arts and Science, Mount Saint Vincent University
Research Associate, Department of Chemistry, Faculty of Science, University of New Brunswick
Clinical
Staff Neurologist, Department of Medicine (Neurology and Geriatric Medicine), QEII Health Sciences Centre, Halifax, NS
Consultant Neurologist, IWK Health Centre, Halifax, NS
Research collaborations and partnerships
Team Member, National Brain Banking Network and Synapses and Metabolomics, Canadian Consortium on Neurodegeneration in Aging (CCNA)
Key Partner and Affiliated Scientist, Biomedical Translational Imaging Centre (BIOTIC)
Collaboration with Dr. B. Finsen, Institute of Molecular Medicine, University of Southern Denmark
Collaboration with Dr. C. Geula, Cognitive Neurology and Alzheimer's Disease Center, Feinberg School of Medicine, Northwestern University
Collaboration with Dr. N. Greig, Drug Design and Development Section, Translational Gerontology Branch, Intramural Research Program, National Institute on Aging, National Institutes of Health
Entrepreneurial activities
Scientific co-founder, Treventis Corporation
Teaching
Lectures in neurology, clinical clerks and residents
Tutor, patient contact sessions in clinical neurology with second-year medical students,
Tutor, case-oriented problem solving sessions with third-year medical students
Functional neuroanatomy, PhD (Psychology) elective
Professional & community activities
Associate Editor, Journal of Alzheimer's Disease (2015–present)
Executive Committee, Brain Repair Centre, Dalhousie University (2012–present)
Associate Editor, Current Alzheimer Research (2009–present)
Advisory Council to the Board of Directors, Alzheimer Society of Nova Scotia (1999–present)
Director, Maritime Brain Tissue Bank (1994–present)