Message from our Department Head
Message from Dr. Vincent Agyapong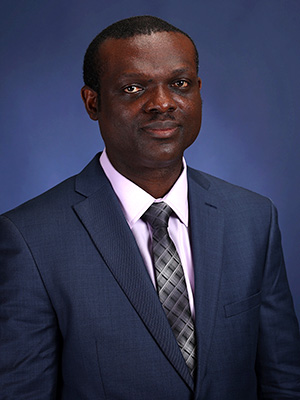 Welcome to the Department of Psychiatry at Dalhousie University. We are a clinical academic department within the Faculty of Medicine. Our mission is to improve the mental health of society and advance the field of psychiatry through education, research, advocacy, and psychiatric care.

We offer undergraduate, postgraduate, graduate programs in psychiatry research, and continuing professional development in psychiatry. Our five-year residency program trains the next generation of psychiatrists with help from over 100 faculty members serving the population across the life span and in several subspecialty areas. Excellence in undergraduate medical education has been sustained over a period of many years.

The department boasts a very strong research program and collaborates with researchers anywhere from across the street to around the world. We are fortunate to host five academic chairs. Drs. Martin Alda, Philip Tibbo, Rudolf Uher, Sherry Stewart and Sandra Meier, are all highly productive and well-known globally for their work.  
Dalhousie Psychiatry is committed to identifying and promoting the highest standards of clinical practice. Members of the department provide expert secondary and tertiary mental health care to the people of Nova Scotia, New Brunswick and Prince Edward Island within the mental health programs at Nova Scotia Health and IWK Health.
The Department of Psychiatry at Dalhousie is a place where we aim to provide superior clinical care and where clinicians, learners and researchers are supported to reach their full potential.
If you don't find what you're looking for on the website, please feel free to email the department with your questions.