Stories
»
Go to news main
INOVAIT Funding Award
Posted by
Dr. Steven Beyea, submitted by K Whitehouse
on January 29, 2021 in
Research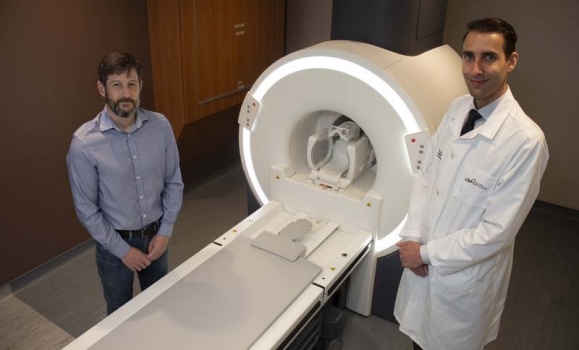 Congratulations to Dr. Steven Beyea on the approval of his funding request to INOVAIT for $125,000.
INOVAIT will provide NSH R&I contracting to begin the process of putting the funding contract in place. Dr. Beyea will work to develop an associated appendix, SOW and budget, via the collaborative research agreement with respect to the matching funding of $87, 500 from Synaptive.
This will provide funding for one-year to acquire 0.5T MR imaging data in 255 patients, split into three groups:
acute stroke
posterior fossa / IAC
new onset neurologic symptoms arriving at the ED
The data will be used to improve AI reconstructions of images with an aim to provide faster diagnostic/screening exams. 
The funding, subject to contracting approval, is slated to start flowing April 1, 2021
Brief Project Summary  
While CT is the standard for emergency neuroimaging due to availability, speed, and inertia, MRI offers superior sensitivity to many pathologies.1,2  A negative MRI scan increases confidence in therapeutic decisions and reduces admissions in cases of diagnostic uncertainty.3-6 The QEII Health Sciences Centre has partnered with Synaptive Medical Inc. (SMI) to install their first 0.5-T Evry™ point-of-care MRI near the highest-volume emergency department in Atlantic Canada. This project will develop clinically validated rapid screening images using AI reconstruction methods.
Project Description
SMI is a Toronto-based medical device and technology company with a global reach, offering an integrated product suite of diagnostic, surgical and data platforms.  Partnering a globally leading Canadian med-tech with a large academic health centre will drive innovation for how this unique MRI technology can be best used in emergency medicine, via development and clinical validation of deep learning reconstructed rapid screening protocols – a critical step as SMI seeks to market the Evry™ as a unique tool for rapid, image-guided therapeutic decision making at the point-of-care (PoC).