Stories
»
Go to news main
Dalhousie Radiology outperforms again at the Canadian Association of Radiologists Annual Meeting
Posted by
Dr. Daria Manos
on February 24, 2021 in
News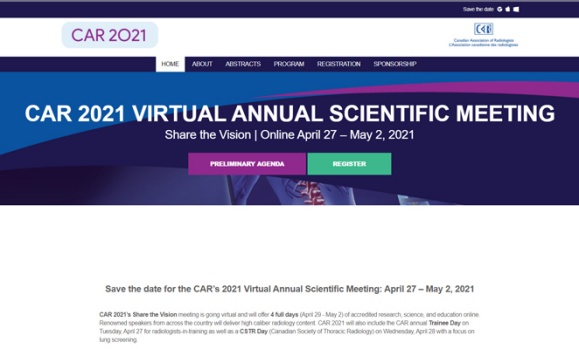 Registration for the CAR annual scientific meeting is now open and, once again, Dalhousie residents and faculty will be centre stage (virtual this time).
Our own Dr. Michael Barry will open the meeting as the President of the CAR.
Congratulations to our trainees who will be presenting authors for seven projects!  Drs. Morgan Lawley, Lauren Kiri and Jessie Kang have accepted research abstracts for the Radiologist-In-Training competition; Alexander Wong, Dr. Marshal Dunn and Dr. Jessica Dobson will be presenting educational exhibits; and finally, Dr. Lauren Kiri will be presenting a second project, the results of her Quality Assurance Audit.
Our CAR annual meeting involvement this year does not stop there!
Dr. Andreu Costa is Chair of the Scientific and Educational Competitions and Judging Committee. We have 2 faculty judges, Dr. Costa (DCAP and Education Exhibits) and Dr. Daria Manos (Value of Radiology).
Dr. Steven Burrell will be presenting an educational exhibit and Prof. Mo Abdolell will be presenting his newest research.  Dr. Manos will also be giving a review lecture and will be moderating a panel discussion. 
Go Dal Go!