News
»
Go to news main
Molly Appeal targets immunity, inflammation and infectious diseases
Posted by
Melanie Jollymore
on September 25, 2012 in
News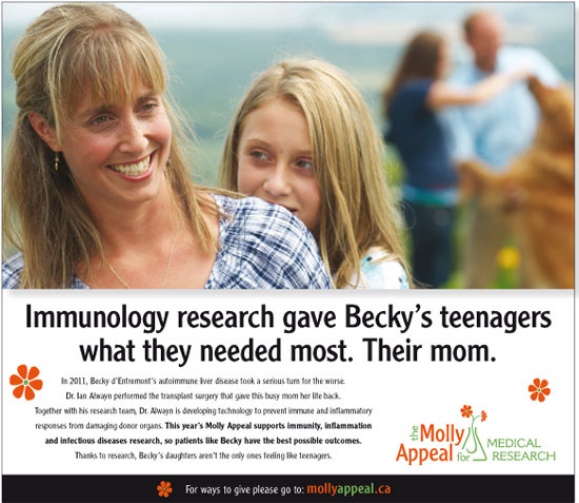 Dalhousie Medical Research Foundation launched its annual Molly Appeal across the Maritimes earlier this month, with a call for donations to support immunity, inflammation and infectious diseases research at Dalhousie Medical School.
It's a complex area of research that encompasses immune deficiency and autoimmune diseases, as well as allergies, cancer, organ transplants, and infections. In spite of this diversity of interests, the medical school's researchers in these interconnected fields were unanimous in their choice of a target for the campaign.
"Everyone agreed that our most urgent need is for a state-of-the-art flow cytometer for analyzing cells," says Dr. Jean Marshall, head of the Department of Microbiology & Immunology and chair of the 2012 Molly Appeal campaign. "More than 30 investigators use the 10-year-old flow cytometer we already have, which is in constant demand but lacks the speed and capabilities of current technologies."
The new flow cytometer will enable Dalhousie medical researchers to analyze more than 20,000 cells per second. "It will allow us to see how cells behave – what makes them proliferate or migrate, react or stop reacting," notes Dr. Marshall. "This will help us understand how the immune system works to fight infections and cancer, how it provokes allergic reactions, and how it drives inflammation and autoimmune tissue destruction. With this knowledge we aim to develop new, more effective strategies for treating and preventing infectious, inflammatory and allergic diseases."
Access to this sophisticated technology will also allow Dalhousie Medical School researchers to continue to succeed in increasingly competitive bids for research funding. "To be competitive in our work and bring research funding to the Maritimes, we need to use high level technology," Dr. Marshall says. "This essential equipment will enable dozens of investigators to advance their work."
2012 marks the 33rd annual Molly Appeal. Over the years, the appeal has raised more than $5 million to support research at Dalhousie Medical School, purchasing many important pieces of shared equipment and funding graduate students to pursue their research careers.
"Our donors have been consistently generous over the years," says Alison Edwards, Dalhousie Medical Research Foundation's executive director. "They clearly recognize the vital role of medical research and want to play a part in advancing health care and saving and improving peoples' lives through their gifts to the Molly Appeal."
Dalhousie Medical Research Foundation is hosting a barbeque to launch the 2012 Molly Appeal on Wednesday, September 26 from 11:45 a.m. to 12:45 p.m. in the Tupper Courtyard. The foundation will announce the proceeds of the 2011 Molly Appeal and officially kick-off the 2012 campaign. This event is generously sponsored by Fisher Scientific.