News
»
Go to news main
Laboratory Research Lures High School Students at University Discovery Days
Posted by
staff
on October 24, 2012 in
News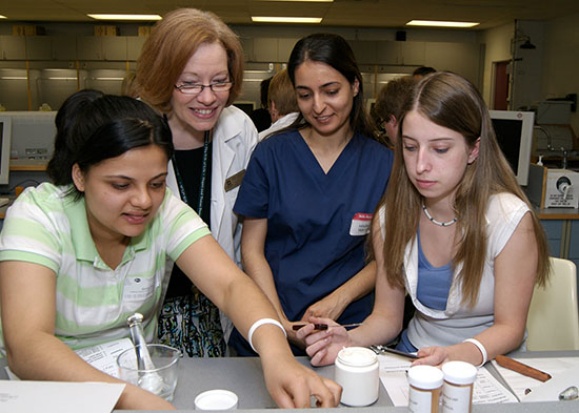 Working in a medical or science research lab may seem like a far-off dream when you are a 17-year-old high school student, but within two or three years and some legwork, you could be part of a leading lab doing important work that will advance medical science, says Dr. Robert Rose, Assistant Professor, Department of Physiology and Biophysics, Dalhousie University. 
This inspiring message is part of Dalhousie Medical School's TD Discovery Days in Health Sciences being presented November 1, 2012, that exposes students from Grades 10 through 12 to the realities of modern health science careers. Often students who are contemplating a career in medicine or health science envision years of being stuck in post secondary education classrooms before they ever see the inside of a real science lab, says Dr. Rose. "But there are plenty of opportunities to volunteer in labs after your first year. You will have to read a lot of university web pages, send a lot of emails and knock on doors, [and] not every lab will need a volunteer, but some will. That's the way to get started," according to Dr. Rose, whose own lab researches heart arrhythmias using a range of electrophysiological and molecular techniques. Second year students who show promise can also be financially supported to work in labs during the summer months," he says. "Options and opportunities always exist for motivated students."
    
TD Discovery Days in Health Sciences are unique daylong events delivered at universities across the country by The Canadian Medical Hall of Fame. Students who attend are eager to hear the stories of life in a lab such as Dr. Rose's. They get a kick out of the hands-on demonstration of electrodes on bodies and the plasticized human heart that Dr. Rose and his team use in their workshop, which is one of a dozen presented throughout that day.
At Dalhousie University's TD Discovery Day, more than 100 curious students from across Nova Scotia will take part in hands-on workshops and pepper the researchers, educators and clinicians with questions about what it's really like to be in the health sciences field.  When these students realize that Canada is a global leader in biomedical science, research and education they see, for the first time, how they can become part of these vital and exciting careers.
Dr. Rose says he's always impressed by the inquisitiveness of the students and their desire to know how he "got to where he is today" as one of Canada's top researchers and a Canadian Institutes of Health Research's New Investigator.  He assures them it's not about endless schooling but a series of exciting adventures as you accomplish more and more.    
TD BANK GROUP SUPPORTS YOUNG SCHOLARS
The ability to help young students across Canada experience a career path in health sciences and medicine – and get excited about it – is what prompted the TD Bank Group to partner with The Canadian Medical Hall of Fame and sponsor the Discovery Days program. It is the lasting impact on high school students and educators that makes this program so valuable.  
 
One such champion of TD Discovery Days is Dr. Tom Marrie, Dean of Medicine at Dalhousie University.  A long-time supporter of this program, Dr. Marrie delights in seeing young people from across Nova Scotia spend the day on campus getting 'up-close-and-personal' with health science professionals. He praises The Canadian Medical Hall of Fame for developing the Discovery Days program, acknowledging that it's an important component to educational outreach.
 
"It's a great way to get young people involved and envision potential future careers, especially in health, but, really, any career in science," says Dr. Marrie, who enjoys face-to-face chats with many of the participating students as the day kicks-off. Later the students listen to an engaging keynote lecture designed to get them revved up about health science. From there, they take part in two of the dozen or more workshops available to them.
For Dr. Marrie, seeing the energy of teenage students considering a health sciences career is extremely rewarding and he understands that what happens at Discovery Day may one day, far off into the future, lead to induction into The Canadian Medical Hall of Fame. For now, Dr. Marrie is excited to be chairing the 2013 Induction Ceremony, held in Nova Scotia for the first time, where six of Canada's newest "medical heroes" will be honored for their contributions to Canada and the world, joining 95 esteemed laureates.    
CANADA NEEDS MORE HEALTH SCIENCE PROFESSIONALS
Discovery Day events can be considered an important starting point to Canada's long-term success. Encouraging students to consider a career in health sciences is imperative to the nation's future as currently Canada is facing a severe shortage of healthcare professionals. In 2010, 4.4 million Canadians, or 15% of the population 12 and older, reported not having a family doctor. The Canadian Nurses Association has predicated a shortfall of 60,000 full-time registered nurses by 2022 if the shortage isn't addressed soon. Yet only 37% of Canadian teens taking high school science courses are interested in pursuing science at the post secondary level according to a 2010 Angus Reid survey.
"More than just doctors and nurses are needed," says Janet Tufts, Executive Director of The Canadian Medical Hall of Fame. "Modern health care requires a broad range of team members that need to come together at many different points along the continuum. Enticing students into these professions is critical. TD Discovery Days with its keynote lecture, two interactive workshops and a career panel discussion shows the breadth of health science careers available in Canada. This day adds up to a very exciting experience with the potential to change their lives."
Since The Canadian Medical Hall of Fame launched this innovative education program in 1997, more than 20,000 students and teachers from across Canada have benefited from these interactive learning days. To make them completely accessible, there is no cost associated for the student or the schools participating. This year, 12 universities are participating in the TD Discovery Days program.
 
For more information on The Canadian Medical Hall of Fame and TD Discovery Days in Health Sciences visit http://www.cdnmedhall.org
Media Enquiries:

Allison Gerrard, Dalhousie Medical School, (902) 494.1789 / (902) 222.1917, allison.gerrard@dal.ca