News
»
Go to news main
Medical student profile Ben Cameron
Posted by
staff
on November 22, 2012 in
News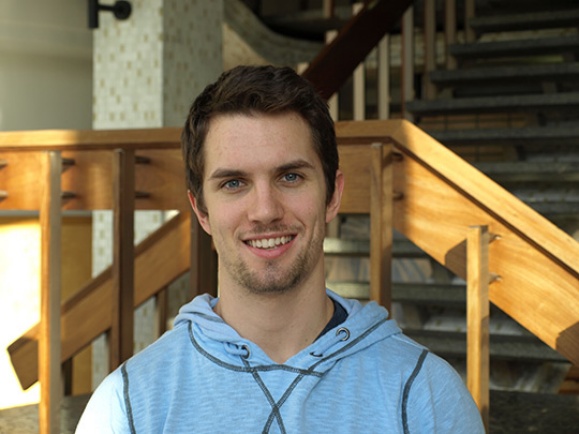 Applying to medical school may be a clear and conscious decision for some, but for Ben Cameron, a first year medical student at Dalhousie University, the decision came with time and thoughtful consideration.
"Try it all, that's always been my approach to life," said the 22-year-old. "I intentionally stay open minded about my future. If you try it all, you'll find something that's a hit."
Ben's first 'hit' happened on the ice. As a past player for the Pictou County Weeks Crushers and two-time competitor in the Canada Games – one in Yukon for hockey and another in PEI for baseball – you may have anticipated Ben's athleticism to define his future. That thought is still there, he says, but perhaps in a different way.
"A sports-related career first looked like it would be the perfect fit for me," said Ben. "After a degree in psychology from UPEI, I juggled with the idea of entering into nutrition and engineering as post-grad options. Designing sports equipment, sports psychology, and even coaching were careers that I saw myself in."
But Ben soon recognized that he had a real desire to help people.
"At that point I realized sports weren't going to give me level of satisfaction that I was after," he said. "I grew up in an environment about following passions and hard work. Med school was just that."
Now into his third month of Med 1, Ben is putting principles like hard work and discovery to the test. Reflecting on the past weeks, he found that settling in – not just into the course work, but also mentally – was the biggest challenge.
"You really need to figure out how to prepare, organize and manage your time well. But the challenge has been great; it feels much different than my undergrad. I'm not studying for a grade, I'm studying to be a good physician."
Working towards that goal, Ben still uses what he's learned from sports to excel as a medical student.
"I picked up a good outlook from sports, especially from hockey. When you show up for a practice or game you have to give 100%. I'm doing the same thing here – that's my work ethic and it's a habit."
As a bonus, Ben finds that he's still part of a team at Dalhousie Medicine.
"It's about understanding what's best for the patient. In hockey, no two games are going to be the same, so you have to adjust and rely on the abilities of your teammates. What I'm doing now is finding out how a doctor, a nurse, a therapist work together to deliver the best possible treatment."
Looking ahead, Ben says that he's not going to rule anything out for a medical focus.
"I'm not going to get discouraged from a residency program because it seems too long, or say one in particular is right for me. I am looking into sports medicine though. It's at the top of my list and something I want to explore further."
Media Enquiries:

Allison Gerrard, Dalhousie Medical School, (902) 494.1789 / (902) 222.1917, allison.gerrard@dal.ca