News
»
Go to news main
Medical student profile Josh Briggs
Posted by
Cory Burris
on December 19, 2012 in
News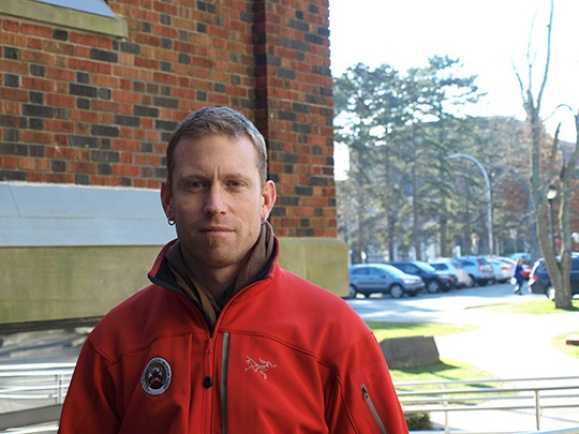 Josh Briggs, by all accounts, is an adventure seeker. He has years of mountain guiding experience under his belt, competed internationally in paragliding, and led private climbs and ski tours across the alpines of western Canada and parts of Europe. But now, this 35-year-old expeditionist is taking on a new challenge: medical school.
"I never anticipated going into medicine," admits Josh. "My hobbies always brought me outside, and for a long time, I wanted a career that complemented them."
In his late teens, Josh left his home in Chester, Nova Scotia, making tracks for Alberta's rocky terrain and mountain vistas. There, he attended the University of Calgary and obtained a degree in geology.
Putting his education to use, Josh started working as a geological wellsite supervisor in western Canada's oil industry. At the same time, he began the Association of Canadian Mountain Guides training and certification process for internationally recognized mountain guides. This eventually prompted him to start his own safety consulting company: Briggs Consulting Ltd.
"At the time, Alberta offered me everything I needed. It was a perfect spot to grow as a geologist and a guide."
But despite all his ambitions, Josh didn't feel satisfied in his work.
"Between the guiding and my consulting business I got to assist a lot of people, but I wasn't really helping anyone. I wanted to make a more meaningful contribution."
It was a series of personal life events, Josh said, that turned his attention and interest to medicine.
"The first was a severe car accident that my sister was in. It put her in the QEII hospital for three months. I remember the care she received while hospitalized and how it led to a full recovery. It was amazing to see how medical teams came together to restore her health and mobility."
Josh's own health care experiences also persuaded him apply to medical school.
"During a climb I suffered a debilitating back injury that involved four months of therapy and rehabilitation. I still feel pain from it," Josh said. "I was also diagnosed with malignant melanoma. These interactions I had with my family's healthcare providers made me want to practice medicine."
Now, as a Med 1 student at Dalhousie, Josh feels like he's reached a new high.
"I'm really enjoying the learning model here," said Josh. "Students get early clinical exposure, and there's a good balance between case-based learning and lectures. It's the perfect blend."
Halfway through his first year, Josh says he's been taking on medical school the same way he approaches a climb.  
"Mountain guiding is all about client care, communication, and risk management. All of these things are relevant to studying medicine and that's how I'm going forward."
Media Enquiries:

Allison Gerrard, Dalhousie Medical School, (902) 494.1789 / (902) 222.1917, allison.gerrard@dal.ca