News
»
Go to news main
Dr. Thomas Pulinilkunnil, Eliminating the global burden of cardiac disease
Posted by
Erinor Jacob
on March 12, 2013 in
News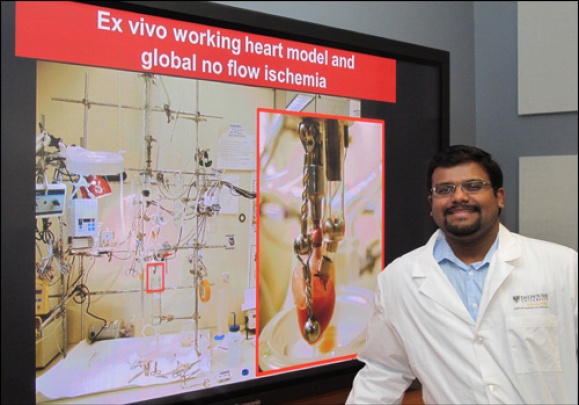 "Wanting to seek [an] answer for the pathology of heart disease and eliminate the global burden of cardiac disease," is part of what drives Dr. Thomas Pulinilkunnil to conduct his research on cardiac metabolism and energetics. Put simply, Dr. Pulinilkunnil, or Thomas as he prefers to be called, studies how the heart uses ATP, the basic currency of energy in our body, to sustain function.
Born in Bombay (Mumbai) India, Thomas joined the Dalhousie Medicine New Brunswick team in July 2012 as an assistant professor in the Department of Biochemistry and Molecular Biology, Faculty of Medicine, Dalhousie University.
On a more basic level, Thomas feels that the "heart as an organ, is the very essence of life that fascinates the biologist in me and nourishes my passion for curiosity driven research to understand cardiac biology." Trained as a pharmacist in India, with a bachelor's degree in pharmacy and master's degree in pharmacology, Thomas worked for two years in the pharmaceutical industry where he developed a great respect for research and the implications it can have on people's lives.
Thomas chose to continue his education in Canada, completing his PhD at the University of British Columbia in Cardiovascular Physiology and Pharmacology. The concentration of cardiac researchers in B.C. and neighbouring Alberta is part of what attracted Thomas to UBC. The opportunity to establish his own lab, the DMNB research program, and perform collaborative translational research with New Brunswick Heart Centre located in the Saint John Regional Hospital is what drew him to the Maritimes. An additional draw is the opportunity to teach and mentor undergraduate medical and graduate students at DMNB. Thomas has already started recruiting undergraduate, Masters and PhD students to work in his lab starting September 2013.
Thomas' research program will focus on how adaptive or causative changes in cardiac metabolism cause heart disease. "Since the metabolism of nutrients (glucose, fat, lactate, amino acids, ketones) provides energy for maintaining cardiac function it is logical that understanding cardiac metabolism is the key to understanding pathogenesis of heart disease." The majority of prior research focuses on how the metabolism of glucose and fats impact heart function, but the contribution of amino acids in influencing cardiac function remains unknown. "Recent studies show that amino acids pay a major role in insulin resistance, obesity, autism and kidney disease. There is some evidence to suggest amino acids may play a role in heart disease as well," Thomas stated.
To dissect the importance of this susbtrate in cardiac function will be one of the focuses of his research. Amino acids are not only used for energy but are also building blocks for complex proteins. To maintain cellular homeostasis, which is the normal state for cells, synthesized proteins are degraded and recycled inside cellular compartments, known as organelles, called lysosomes by a process known as autophagy. Thomas' research will also investigate whether these changes in protein degradation pathways contribute to cardiovascular complications and heart failure.
Thomas is also excited about the potential opportunity to work with DMNB's Assistant Dean of Research, Dr. Anthony Reiman. Dr. Reiman is an oncologist at Horizon Health Network and the Canadian Cancer Society Research Chair in New Brunswick. Thomas hopes to explore the toxicity of anti-cancer drugs on the heart and study the above mentioned mechanism in drug induced cardiotoxicity. In addition to his scientific expertise and interests in studying cardiovascular disease, Thomas stated that he has personal experience with the disease as well; "One important reason for me to pursue research into cardiovascular disease is being part of a family that has high susceptibility and mortality to diabetes and heart failure."
The potential impact of Thomas' research on the lives and health of heart patients will be significant especially in the province on New Brunswick where the development of cardiovascular research programs are still in the early stages.