News
»
Go to news main
Dalhousie infectious diseases specialist appointed chair in pediatric vaccinology
Posted by
Allison Gerrard
on April 17, 2013 in
News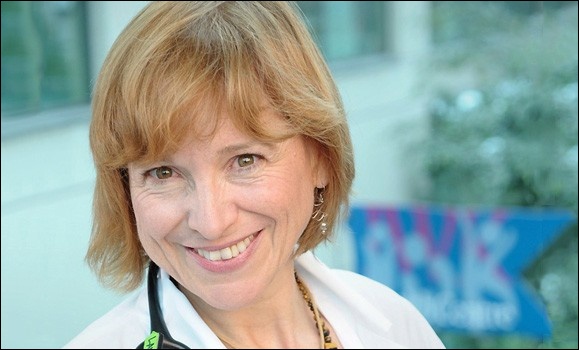 Dr. Joanne Langley, professor of pediatrics and community health and epidemiology at Dalhousie Medical School, and an infectious diseases specialist at the IWK Health Centre, has been appointed Dalhousie University's CIHR-GSK Chair in Pediatric Vaccinology. It's the only chair of its kind in the country.
"I am honoured to have this opportunity to focus on prevention of illness, disability, and death by improving and developing vaccines and vaccine programs along with colleagues in basic science, clinical vaccine evaluation, and health policy and translation," said Dr. Langley.
As chair, Dr. Langley, a pediatrician, epidemiologist, and public health advisor to various levels of government, will aim to improve vaccines for children – from the fetal period through to young adulthood. She'll also work to prevent influenza and other respiratory infections through refined vaccine programs.
"Immunization has been described by the World Health Organization as a core component of human health," said Dr. Langley. "It's anticipated that the coming decade will be one of unprecedented progress in vaccine innovation, development, and program delivery."
Infectious diseases is one of Dalhousie Medical School's core research strengths. More than 40 Dalhousie investigators, all affiliated with the IWK or Capital Health, are pursuing vaccine research at Halifax's Canadian Center for Vaccinology.
"Our researchers are world pioneers in child and maternal immunity, and play a leadership role in national influenza studies," said Dr. Gerry Johnston, the medical school's associate dean of research. "University chair holders are at the top of their field; Dr. Langley is widely recognized as one of Canada's top vaccinology researchers."
The new chair is supported by a $700,000 partnered investment from the Canadian Institutes of Health Research and GlaxoSmithKline, with additional support from Dalhousie Medical Research Foundation, Academic Pediatrics Incorporated, the Dalhousie Department of Pediatrics, the IWK Health Centre, and the Canadian Center for Vaccinology.
Dr. Langley's research program will be based at the Canadian Center for Vaccinology. The centre is a collaborative partnership between Dalhousie, the IWK, and Capital Health.