News
»
Go to news main
Dr. Paola Marignani creates a new model for testing potential treatments against aggressive breast cancers
Posted by
Melanie Jollymore
on May 2, 2013 in
News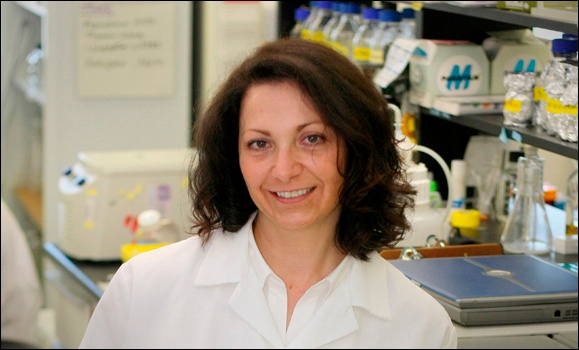 Scientists at Dalhousie Medical School have developed a new and effective way to test potential new treatments for aggressive, metabolically active HER2-positive breast cancers.
Dr. Paola Marignani is principal investigator of the team of scientists that has engineered a new mouse model of HER2-positive breast cancer—a model that is so reliable and predictable, it's allowing them to test experimental drugs on cancers that have barely even begun.
Precise and efficient testing of breast cancer treatments
"We've found that our model reliably leads to HER2-positive, metabolically active breast cancer within a specific and predictable time frame," notes Dr. Marignani, an associate professor in the departments of Biochemistry & Molecular Biology and Pathology. "As a result, we're able to test potential treatments against tumours that are just beginning to develop, to see if we can actually circumvent the cancer. We can also precisely compare the impact of various treatments at different stages of cancer development, to test how to optimize the effectiveness of each strategy."
Cancer researchers around the world are taking notice of the new model, since it was published in PLOS ONE, the peer-reviewed journal of the U.S.-based Public Library of Science. A number of European and American investigators have already contacted Dr. Marignani, in hopes of collaborating with her to test promising new breast cancer therapies.
From fundamental discovery to practical tool
Dr. Marignani's journey to creating this new model began in 2005, with the milestone discovery that a protein called LKB1 helps regulate estrogen receptors in breast tissue. Dr. Marignani and her team found that LKBI is abundant in healthy human breast tissue, while it was scarce in a third of the HER2-positive human breast cancer tissue samples they studied. They published their findings in Molecular Biology of the Cell in 2009.
"We wanted to do something practical with our discovery that LKBI is an important tumour suppressor," Dr. Marignani recalls. "In 2007, we began working on a new animal model of breast cancer that could be used as a translational tool to test novel therapeutics for breast cancer."
The scientists found they could quickly and reliably produce cancer in mice if they blocked the ability of HER2-positive mice to produce LKBI. "It's a matter of re-engineering the LKBI gene so it no longer produces the LKBI protein," she explains. "It sounds simple on the surface, but it took four years of experimentation and testing to develop the model, which is unique in the world."
Made-in-the-Maritimes innovation
Not only was the LKBI model of breast cancer developed in the Maritimes, it was funded solely by Maritime-based funding agencies.
"Dalhousie Medical Research Foundation provided the pivotal funding that permitted us to move forward with this work, through its Adopt-a-Researcher program," notes Dr. Marignani. "I'm so grateful to the individuals who chose to support my research through this program."
The Beatrice Hunter Cancer Research Institute, the Nova Scotia Health Research Foundation, and the Canadian Breast Cancer Foundation - Atlantic Region have also supported Dr. Marignani's work to develop a powerful new tool for testing potential breast cancer therapies.