News
»
Go to news main
Dr. Paola Marcato: Targeting cancer's most dangerous cells
Posted by
Melanie Jollymore
on June 18, 2013 in
News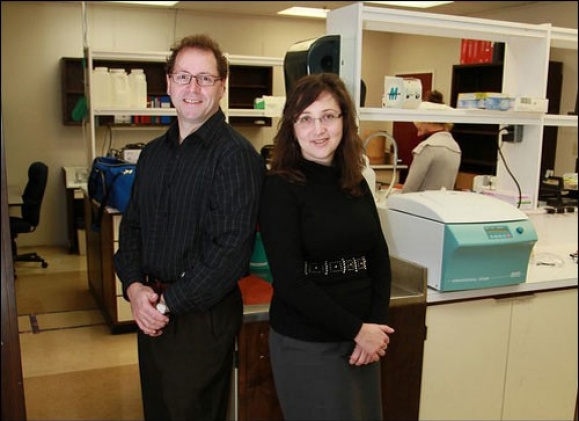 New faculty member Dr. Paola Marcato first became interested in cancer stem cells during her postdoctoral fellowship with renowned Dalhousie cancer researcher Dr. Patrick Lee. "It was through this work that I realized cancer stem cells are really the bad guys," she says. "These are the cells that are programmed to proliferate and invade nearby tissues, leading to metastasis. Unfortunately, they're very hard to kill. You could kill all the regular cancer cells with chemo and radiation, but still be left with the cancer stem cells… so, the cancer can recur."
Dr. Marcato wants to learn more about the role cancer stem cells play in the progression and metastasis of cancer – and to find ways to block or destroy them. She's studying cancer stem cells in tissue samples drawn from real patients' excised tumours, in collaboration with Dalhousie/Capital Health surgical oncologists Dr. Carman Giacomantanio and Dr. Lucy Helyer, who provide her with the samples.
"We've already identified a marker on breast cancer stem cells that is strongly associated with invasive cancers," says Dr. Marcato. "Patients who show higher levels of this marker have worse outcomes… so it is a valuable prognostic marker and also a potential target for treatment."
Dr. Marcato works very closely with Dr. Giacamantonio in a shared lab in the Tupper Building that will officially open in February 2013. Both have received generous funding for their cancer stem cell work from anonymous donors who have channeled their support through the QEII Foundation and Dalhousie Medical Research Foundation (DMRF).
"I was thrilled when I learned that anonymous donors had decided to support me through DMRF's Adopt-a-Researcher program," says Dr. Marcato. "This provided vital lab start-up funding that made it possible for the Department of Pathology to offer me a faculty position."
Prior to accepting the appointment as assistant professor in the Department of Pathology, Dr. Marcato was a research associate in Dr. Lee's lab, a role she had played since completing her postdoctoral studies with Dr. Lee. She played a key role in this lab's discovery of the mechanisms that enable human reovirus to infect and kill cancer cells, and its seminal finding that reovirus can kill breast cancer stem cells.
With support from an anonymous donor, Drs. Marcato and Giacomantonio plan to establish the region's first breast cancer tumour bank. Not only will this allow them to examine cancer stem cells in thousands of women's cancers, it will enable them to compare the cancer stem cell profiles to the women's long term outcomes.
"Lots of people are looking at cancer stem cells," notes Dr. Marcato. "What sets our work apart is its translational nature. We're not learning about these cells in theory alone, we're learning how they behave in real people's cancers, to what ultimate effect. I think this will help us pinpoint the most important targets, so effective therapies can be designed and perhaps even tailored to an individual's particular cancer stem cell profile."