News
»
Go to news main
New family medicine training site fills all resident spots in first CaRMS match
Posted by
Melanie Jollymore
on April 3, 2014 in
News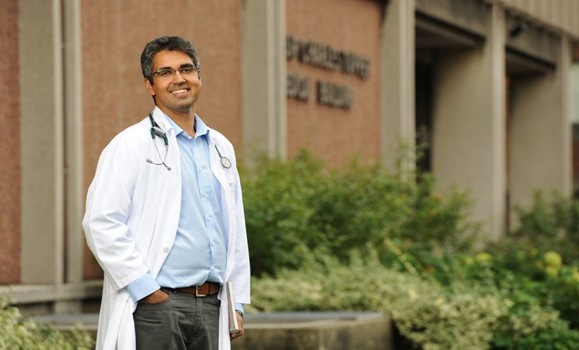 Dalhousie Medical School's newest family medicine training site – headquartered in Yarmouth in southwest Nova Scotia – has filled all five of its residency positions in the first round of the 2014 CaRMS (Canadian Resident Matching Service) match.
"New training sites sometimes struggle to fill all their open spots, as they have not yet had time to build their reputations," notes Dr. Andrew Warren, associate dean of postgraduate medical education at Dalhousie Medical School. "It's to Southwest Nova's credit that they were able to attract a full slate of residents in the first round of the highly competitive CaRMS match. The leaders and preceptors must have made a favourable impression on them during the interviews."
The five residents begin their training in Southwest Nova on July 1, 2014. One is a graduate of Dalhousie's undergraduate medical education program, while three hail from the University of British Columbia, and one joins Dalhousie from l'Université de Sherbrooke in Quebec.
"We're fortunate to have bilingual preceptors in community teaching sites, such as Clare, in Southwest Nova," Dr. Warren says. "In addition to providing French-speaking residents with an opportunity to complete their family medicine training in a bilingual environment, the addition of residents to their local health care teams provides a great benefit to the community—particularly if some residents choose to practice there after they complete their training."
Research shows that residents who complete their training in a rural community are more likely to go on to practice in a rural community. These five new family medicine residency positions, combined with five new positions opened at a new training site launched in the Annapolis Valley in 2012, means ten more family doctors will complete their training in rural communities in the Maritimes each year. As Dr. Warren note, the medical school is hopeful this increase will result in more family doctors working in these communities and, ultimately, to better health care for Maritimers.
"It's part of our ongoing commitment to meeting the health care needs of Maritime communities," Dr. Warren says. "Dalhousie Medical School offers learning experiences in more than 100 locations in the region, and most of our 59 family medicine training positions are based outside Halifax Regional Municipality. All but three of these were filled in the first round of the 2014 CaRMS match – and the remaining positions will be filled easily in the second round. We're very proud of our family medicine program and the example we're setting in distributed medical education."
Read this story to learn about Dalhousie's new family medicine teaching site in Southwest Nova.