News
»
Go to news main
Dr. Shelagh Leahey ‑ Dalhousie Medical Alumni Association family physician of the year
Posted by
Kim MacLachlan
on September 8, 2014 in
News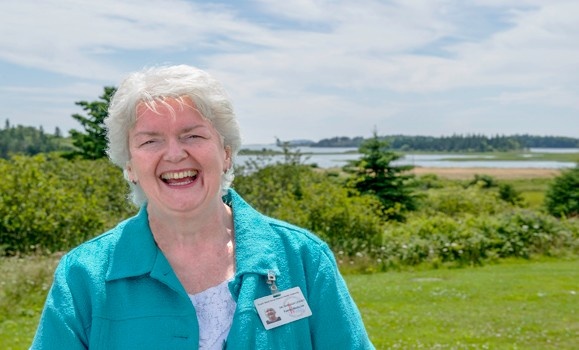 Dr. Shelagh Leahey has made significant contributions to family medicine in Canada, as noted by her leadership in the development of the Ocean View Family Practice and advocacy for health care in Southwest Nova Scotia.
A graduate of Dalhousie's medical class of 1975, Dr. Leahey moved to Yarmouth to set up a family practice in 1976. Currently, Dr. Leahey is the site director for the South West Nova location of Dalhousie's family medicine residency training program. She also works part-time at the Tri-County Women's Centre in Yarmouth, a centre that provides services to empower and support women and girls.
"Family medicine in South West Nova is really a marvelous way to be practising medicine, despite the challenges of distance, the economy and an aging population," she says. "The area offers a collegial group of health care professionals in medicine such as nursing, pharmacy, physiotherapy and more, who are committed to patient care and are comfortable with inter-professional practice."
Throughout her career, Dr. Leahey has held a variety of professional posts and academic positions, some of which include medical director for the Ocean View Family Practice, district chief of staff and palliative care consult physician for the South West Nova District Health Authority, a Continuing Medical Education coordinator for Dalhousie Medical School, as well as a clinical clerk preceptor. She has also served as a board member for the Well Woman Society of Yarmouth, the Yarmouth Art Society, Family and Children's Services, Cardiovascular Health Nova Scotia, Reproductive Care Nova Scotia and Cancer Care Nova Scotia.
In addition to serving on a number of boards, Dr. Leahey's dedication to family medicine has been recognized through various awards such as the Preceptor of the Year award, Dalhousie Medical Clerkship (1997); the Nova Scotia Family Physician of the Year award, College of Family Physicians in Canada (2011); and designation as the founding member of the Leahey Wellness Clinic, now part of the Tri-County Women's Centre.
Passionate about her work, Dr. Leahey says that her career in family medicine has far exceeded her original expectations.
"I imagined my practice would be just as I described for the first 30 years of my work in Yarmouth," she said. "However, my imagination fell short when it came to the diversity I would be exposed to and the generosity and uniqueness of the people in the areas I served."
Dr. Leahey credits her training at Dalhousie Medical School as one of the key elements to helping her prepare for the diverse nature of rural family medicine. "Dalhousie prepared me for a wide range of family practise styles," she says. "I was drawn to rural family medicine because of the opportunities of continual learning while using a full range of skills. What I didn't recognize was that my informal leadership exposure at Dalhousie would also help me prepare for some of the volunteer work I have participated in and have greatly enjoyed."
Her ongoing commitment to volunteerism, the health profession and the care of her patients is outstanding. As Dr. Leahey continues to make a difference in the lives of her patients and in the community, she says that she feels a great deal of gratitude towards her patients for allowing her to fulfill a rewarding career in medicine.
"I love to hear people's stories and help them have a healthier life, from before birth to their last breath," she says. "I receive so much more than I give to patients, such as daily life lessons from them and their families. These lessons have enriched my personal life, while making me endlessly grateful to have the good fortune of being a family doc in South West Nova."