News
»
Go to news main
Serving his country at home and abroad
Posted by
Nicole Tanner
on September 9, 2014 in
News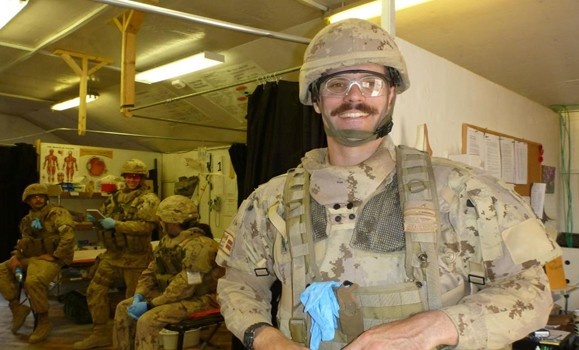 In February 2012, Dalhousie Medical School graduate Capt. Shane Smith was deployed to Kabul as part of Operation ATTENTION, Roto 1. His mission was to take care of allied soldiers in Camp Alamo and to advise the Afghan clinic in the Kabul Military Training Center (KMTC), the main facility for training Afghan troops.
Upon arrival, Capt. Smith quickly noted how different things were from back home. "They didn't have proper equipment, and it was much dirtier than would be acceptable in a Canadian clinic," he says. "The linens were washed by hand by the medics every day, which meant it wasn't always possible for the linens to be changed with each new patient. It was very different." However, once he started working with the Afghans, Capt. Smith realized that the conditions were the result of insufficient staffing. "They didn't have the staff to keep the clinic as clean as we were used to. They cared a great deal for their patients, and they were doing the best with what they had."
By the time Capt. Smith left in November 2012, conditions changed significantly. "It was quite wonderful," he says. "We got the clinic a washer and dryer so they would be able to have clean linens for patients. We helped improve their vaccination program that provided every solider with immunizations."
Capt. Smith is most proud of working with the Afghans to establish an internal teaching program. Before the program was established, there was no certainty that all of the medical professionals possessed the same skills. "There was a great heterogeneity of skillsets because some had worked in larger hospitals in Kabul and others had combat experience down south."
To remedy this, Capt. Smith worked with Col. Shir-Afzal, the Afghan chief medical officer, and the Sgt. Major to develop a sustainable program of teaching and learning that would allow Afghans to teach other Afghans. "The topics were driven by them, so they were able to focus on what they wanted to learn," Capt. Smith says. "The hope was to be able to develop a sustainable practice of teaching and learning that could continue after we left. We noticed significant changes in the time we were there. It was a privilege to be involved, and the Afghan clinicians became great friends of mine."
Before these friendships were forged, however, the Afghans were hesitant to accept help from Capt. Smith and his team. Unfortunately, on July 4, 2012, a disaster brought the two sides together when five 40,000 tonne propane tanks exploded in Kabul. After the first explosion, Afghans near the tanks immediately left their barracks, which exposed them to the subsequent explosions. The clinic responded to 300 patients, putting a strain on the already understaffed clinic.
"The majority of patients weren't seriously injured. They had burns to the face, hands, and feet, and many had lacerations from running away and climbing over concertina wire," he says. "The difficulty was the number of patients affected, which would have been lower if they had stayed inside instead of trying to run away. The challenge was to triage the patients within such a large group."
Capt. Smith was particularly impressed with how Col. Shir-Afzal and his team triaged so many patients so effectively. "They organized the patients on the front lawn of the clinic, arranged for the more seriously injured patients to be brought inside first to be treated and evacuated to other hospitals by ambulance," he says. "It was quite impressive to work with them in this environment."
After this crisis, the Afghans saw that the Canadians truly cared about the Afghan patients, resulting in more openness to Canadian ideas. "They needed to know that we weren't there to lecture to them or talk down to them, but we wanted to help them build a better clinic and deliver better care," Capt. Smith says. "It was important to get their trust and listen to their needs."
As a result of his service in Kabul, His Excellency the Right Honourable David Johnston, Governor General and Commander-in-Chief of Canada, presented Capt. Smith with a Meritorious Service Medal (Military Division), which recognizes individuals who have brought honour to the Canadian Armed Forces and to Canada.
"It was a humbling experience," Capt. Smith says of the ceremony. However, it is clear that the work itself was its own reward. "I'm very proud of my tour and the team I worked with," he says. "I am proud to be in medicine, proud to be able to provide the care, and proud to be part of the military. I am very lucky to have been involved and that I am able to do work that is meaningful."