News
»
Go to news main
Dalhousie set to expand biomedical research with new zebrafish lab
Posted by
Cory Burris
on November 5, 2014 in
News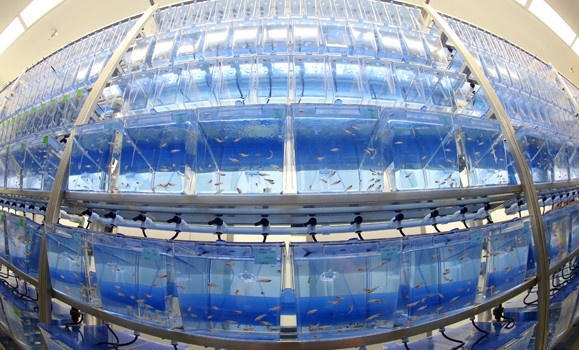 One is a few inches long; the other grows to be several feet tall. One is marked by its blue stripes; the other by body hair. One is a common fish in the Himalayan region; the other is a dominant species of mammal around the globe.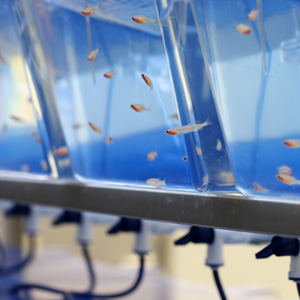 Clearly, you'd never confuse a zebrafish and a human just by looking at them. But underneath our skin, at the level of our DNA, human beings aren't all that different from zebrafish, which means there's huge potential in zebrafish models to identify the genes that underlie human diseases.

On Thursday, zebrafish research at Dalhousie Medical School took a big leap forward with the opening of a new lab: the Zebrafish Core Facility.

Housed in the Life Sciences Research Institute (LSRI), the $1.5 million facility is one of the largest of its kind in North America. It will provide researchers access to state-of-the-art equipment for studying zebrafish models of disease and testing potential new treatments in these disease models.

And with room for up to 75,000 adult fish in the facility, collaborative biomedical research at the university is set to grow exponentially.
An effective model for biomedical research

While some of the zebrafish in the lab look like the ones you'd find in a home aquarium, the lab also uses a number of special genetically modified and mutant fish, including a special breed called casper. This breed is almost completely see-through due to a lack of pigmentation.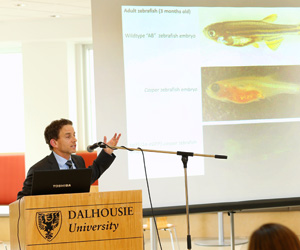 These special fish give researchers like Dr. Jason Berman (left), associate professor in the Department of Pediatrics and one of the lab's main tenants, visual access to the animal's internal anatomy and development processes. It also lets him evaluate genetic modifications and therapeutic responses to transplanted human cells in real time.

"Zebrafish provide an unprecedented tractable vertebrate model system for developing genetic and transplant models of human cancers for the purpose of testing new therapies," said Dr. Berman.

"The speed and cost-effectiveness of these studies means the zebrafish can provide real time response data to personalize cancer therapies, and serve as a key preclinical screening platform in the pipeline for new drug discovery."
Multi-user spaces at Dalhousie

Facilities like the zebrafish lab fall under Dalhousie's CORES (Centralized Operation of Research Equipment and Support) program. They're designed with interdisciplinary research in mind, and provide Dal experts with high-tech equipment and lab space for a variety of clinical translational applications.

Alongside Dr. Berman's research, Dal specialists are using zebrafish to gain insights into human diseases like breast cancer, cardiac development and function, neurologic diseases, memory and other phenomena.

Dr. Gerry Johnston, associate dean of research at Dalhousie Medical School, sees a growing need for these facilities at Dalhousie.

"The conduct of research is increasingly dependent on sophisticated technologies that often require these specialized facilities," said Dr. Johnston. "The new zebrafish core facility is one such example of an emerging technology that will equip our researchers with modern tools to explore human health and disease."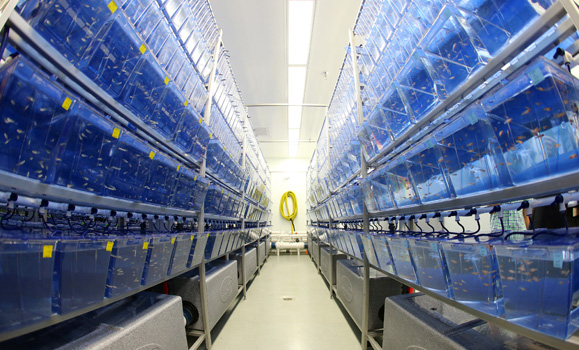 The possibility for collaboration goes far outside of the university. The zebrafish lab — along with other core facilities — positions Dalhousie as a partner of choice among international research institutions.

"Researchers around the world will have access to the lab," explains Dr. Johnston. "They'll be able to carry out their own research by ordering stock zebrafish from Dalhousie, request customized zebrafish breeding, or work with our faculty here on a range of on-site studies."

Funding for the zebrafish lab came from the Dalhousie Medical Research Foundation, Dalhousie Medical School, Dalhousie University, the Department of Pediatrics, the Division of Pediatric Hematology/Oncology, the Centre for Drug Research and Development (CDRD) and Irving Shipbuilding.