News
»
Go to news main
Health Canada rubber stamps psoriasis treatment discovered through Dal‑led research
Posted by
Allison Gerrard
on March 11, 2015 in
News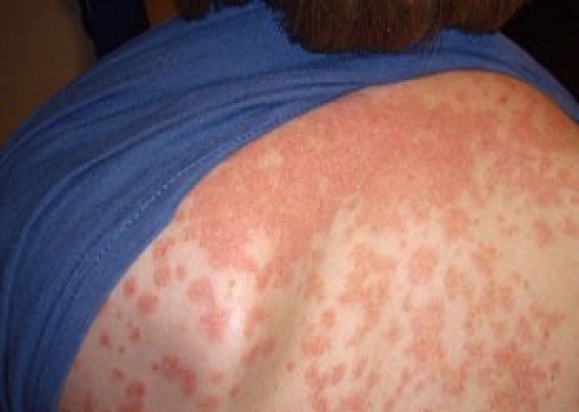 Health Canada just gave its stamp of approval to bring a new psoriasis drug to the shelf: Cosentyx. The injection, the first treatment of its kind, was discovered and tested by an international team of researchers led by Dalhousie Medical School's Dr. Richard Langley.
"An unmet need existed in the treatment of moderate-to-severe psoriasis," says Dr. Langley, professor and director of research in the Division of Dermatology. "Using an antibody called secukinumab, we showed that for more than 80 per cent of patients, the secukinumab injection cleared up skin lesions."
In one of the largest psoriasis studies ever reported, secukinumab proved to be almost twice as effective as some other psoriasis treatments currently on the market. It achieved unprecedented levels of clearing – even in severe cases. Study results were published last summer in the New England Journal of Medicine.
An effective psoriasis treatment
"The effect is rapid," says Dr. Langley. "We saw 50 per cent improvement within three weeks."
It was initially thought that psoriasis was caused by too much cell turnover in the skin. Instead, recent research has shown that the body's immune system releases small proteins that spark the development of the disease.
"In people with psoriasis, their IL-17A protein levels are six times higher than in normal skin," says Dr. Langley. "When IL-17A levels are too high, it signals more skin cells to grow. And too many skin cells cause thickened skin and plaque to develop."
"Identifying that secukinumab blocks IL-17A is one of the most — if not the most — impressive results that we've seen in psoriasis research," says Dr. Langley. "The approval of Cosentyx, a drug targeting IL-17A, offers a new treatment option for physicians treating this condition."
Psoriasis is a chronic skin disease affecting approximately one out of 50 people. It's a systemic illness with widespread implications throughout the body. It causes painful, itchy lesions, and has been linked to a host of other health problems, such as psoriatic arthritis, inflammatory bowel disease, depression, obesity, hypertension, ischemic heart disease, and stroke.