News
»
Go to news main
New research chair aims to improve orthopaedic care
Posted by
Tanya MacLean & Allison Gerrard
on September 24, 2015 in
News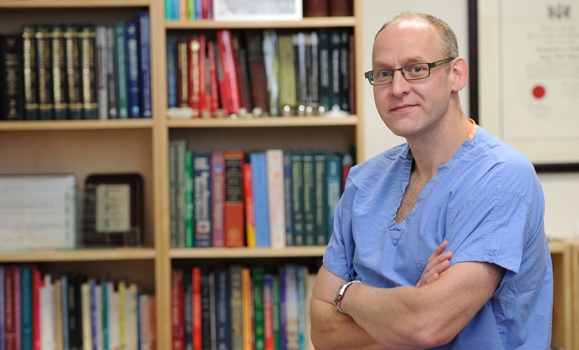 Dr. Michael Dunbar was recently named the inaugural QEII Foundation Endowed Chair in Arthroplasty Outcomes.
Arthroplasty is a surgical procedure to restore the integrity and function of a joint, and Nova Scotia has significant challenges associated with the delivery of arthroplasty care. The province has among the longest wait times for joint replacement surgery and a higher failure rate than the national average.
"Atlantic Canada is chronically behind in arthroplasty outcomes and we need to know why," says Dr. Dunbar, an orthopedic surgeon and professor in Dalhousie's departments of Surgery, Biomedical Engineering, and Community Health & Epidemiology.
Transforming research and orthopaedic care
Dr. Dunbar's research will focus on improving healthcare delivery for arthroplasty patients so that they'll have a better quality of life.
"As chair, I can align with national and international efforts and research data to improve arthroplasty care and bring that learning here to the QEII," says Dr. Dunbar. "The power of this chair position is how it intersects with many disciplines and the ability to look for patterns."
An endowed chair provides stable long-term funding for the chairholder, allowing further medical advancements to be made in a dedicated area.
"Research chairs transform scientific thinking and, as a result, the research environment in Halifax and the Maritimes," says Dr. David Anderson, dean of medicine. "They also improve patient care. The work that's being done in the area of surgical reconstruction and the replacement of joints has already had a direct impact on patient outcomes locally, and around the world."
With this announcement, Dalhousie Medical School became home to 24 research chairs. Chairholders are recognized as the top researchers in their fields.
"Research chairs transform teaching, too," notes Dr. Anderson. "Having our medical students train under these researchers and clinicians means they're learning from the best of the best."
The QEII Foundation, BMO Financial Group, and the Division of Orthopaedics are funding the chair position.