News
»
Go to news main
Cancer fighters
Posted by
Allison Gerrard
on December 10, 2015 in
News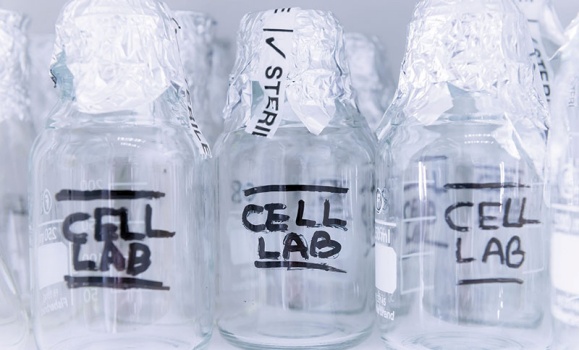 Atlantic Canada has the highest cancer rates in the country. Responding to this health-care challenge, cancer research has become a major focus for Dalhousie Medical School and its affiliated teaching hospitals.

More than 50 Dal investigators and their teams are working together, and with partners around the world, to find better ways to detect, diagnose, treat and prevent cancer.

Trigger hunt
Dalhousie scientists are learning how changes in genetic make-up can trigger cancer. They're looking at how some molecules in the body promote the cancer process, while others slow it down. From there, they're seeking ways to block the functions that cause cancer, and rev up the functions that protect against it.
Other Dal scientists are learning how cancers spread so that they can find better ways to stop this deadly progression of disease. "I'm exploring the molecular mechanisms that enable cancer cells to grow, invade surrounding tissues, and metastasize," says Dr. David Waisman, the Dalhousie-based Canada Research Chair in Cancer Research.
"My team is working on several strategies aimed at stopping this chain of events. One involves blocking the activity of a protein that empowers cancer cells with the ability to break free from the tumour mass and clear a path into the blood supply. Once in the blood, the cancer cells use this protein to colonize other organs. We're also examining the possible use of this protein in clinical tests as a marker for indicating how a patient will respond to chemotherapy, and if high levels of the protein correspond to overall and progression-free survival."

Prevention focus
Dalhousie investigators are exploring Atlantic Canadians' hereditary, environmental and lifestyle risk factors through long-term studies.
"By analyzing biological samples and other sociological information over time, we may be able to determine why some people develop particular cancers while others don't," explains Dr. Louise Parker, a Dal epidemiologist and the Canadian Cancer Society (Nova Scotia Division) Endowed Chair in Population Cancer Research. "This research will inform future cancer prevention efforts as well as public policy."

Better diagnosis and care
Some Dalhousie researchers are searching for biomarkers that signal the presence of cancer. These biomarkers could eventually provide fast and reliable ways to detect and diagnose the disease with something as simple as a blood test. Evaluating the effectiveness of cancer screening programs is another area of research interest.
As Dalhousie University's Gibran and Jamile Ramia QEII Health Sciences Centre Chair in Surgical Oncology Research, Dr. Geoff Porter aims to improve access to timely, high-quality care. "As a surgeon, I know time is of the essence when diagnosing cancer. I'm looking at how we can make changes to the health system that optimize both the timing and quality of cancer diagnosis and treatment."

Treatment advances
Dalhousie medical researchers are pioneering ways to fight cancer. Drs. Naga Puvvada and Keith Brunt of Dalhousie Medicine New Brunswick have developed a new way to deliver chemotherapy drugs. Using nanotechnology, the novel system releases chemo in cancerous cells only, leaving healthy cells alone.
"This new delivery system, while it is in its early stages, is promising for patient-tailored therapy in personalized medicine," says Dr. Brunt. "The potential to improve the quality of life for solid tumour cancer patients and their overall outcomes is within reach with this type of targeted, measureable treatment."