News
»
Go to news main
Celebrating African Heritage Month at Dal and beyond
Posted by
Paige Lana
on February 3, 2016 in
News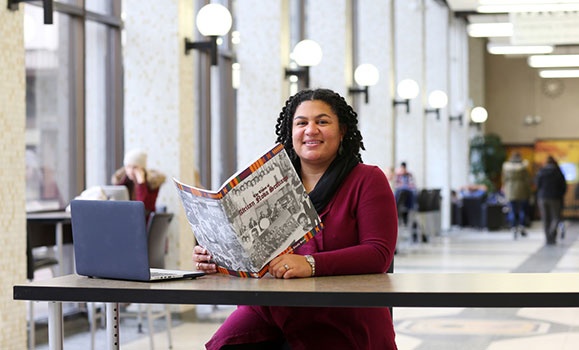 Partners from across the Dalhousie community have come together again this year to help celebrate African Heritage Month, offering a range of events from art exhibits and film screenings to workshops and lectures throughout February.

The month-long celebration presents a chance for African Nova Scotians and others of African descent to honour their history and culture and for others to learn more about it, said Michelle Patrick, the program coordinator at PLANS, a Dal-based group that aims to attract more African Nova Scotians into the health professions.

"Dalhousie is very diverse and it's nice to celebrate each part of that," said Patrick, who has been with PLANS (based out of the Global Health Office (GHO) in the Faculty of Medicine) for two years and is also a former Dal student.

Patrick said she and her colleagues in the GHO play a part in coordinating African Heritage Month events held at Dal each year. This year, Patrick said her office is particularly thrilled to be partnering with the Nova Scotia Brotherhood (NSB) initiative for a lecture on the health and wellness of African Nova Scotia men happening on February 10 in the Tupper Medical Building.

"The organization looks at men's health from a social determinants perspective," said Patrick, who is happy to see work in the health sphere that looks at the root of problems instead of opting for band-aid solutions.

Another locally inspired event titled "Remember Africville: A Dalhousie Journey to Africville" includes a tour of the Africville Museum, located in the north end of Halifax where the African Nova Scotian community was situated until the city of Halifax condemned the area in the late 1960s.

Fifty spots are available for the Feb. 26 event, organized by Dal's Office of Human Rights, Equity and Harassment Prevention (HREHP), the Dalhousie Student Union (DSU), the Black Student Advising Centre, and PLANS. (For more details and to sign up, contact HREHP's Shakira Weatherdon).
A defining part of Dal's history

Dal president Richard Florizone recognized the collective efforts of the university community in showcasing the importance of African history and culture at Dal and beyond . 

"I am very pleased that Dalhousie University is an active partner in African Heritage Month," said Dr. Florizone. "The contributions and history of African Nova Scotians, African Canadians and People of African descent are a defining part of Dalhousie's history and future, and of our province and country. I encourage all members of the Dal community to take part."

And there's plenty more on offer.

The latest instalment of the Dal-organized "Racism is Killing Us Softly" speaker series – "Narratives of Young Black Men" – also happens this month on Feb. 4. The series was started in early 2015 by the School of Social Work in collaboration with the Black Student Advising Centre, the Association of Black Social Workers and Afua Cooper, the current James Robinson Johnston Chair of Black Canadian Studies at Dal. This month's event will feature young black men sharing their stories of struggles, challenges, successes and future aspirations.

Film buffs will want to check out the Dalhousie Art Gallery's film series focusing on the first films of black filmmakers, including Justin Simien's "Dear White People" (Feb. 9) and Kathleen Collins's "Losing Ground" (Feb. 16).

And to round out your packed schedule, you'll want to check out the Dalhousie Black Law Student Society's speaker series as well as a lecture on environmental racism in Nova Scotia hosted by the Environmental Law Students' Society.

Patrick, the PLANS director, says this rich array of events is a testament to just how deeply ingrained African history and culture are at Dal and in Nova Scotia.

"From Halifax's African Nova Scotian population to international students, African culture is a big part of Dalhousie."
Be sure to check out Dalhousie's full schedule of events. Nova Scotia's Department of Communities, Culture, and Heritage also has events you won't want to miss.