News
»
Go to news main
New Dal recruit researching how to treat deadly pathogen for cystic fibrosis patients
Posted by
Allison Gerrard
on April 13, 2016 in
News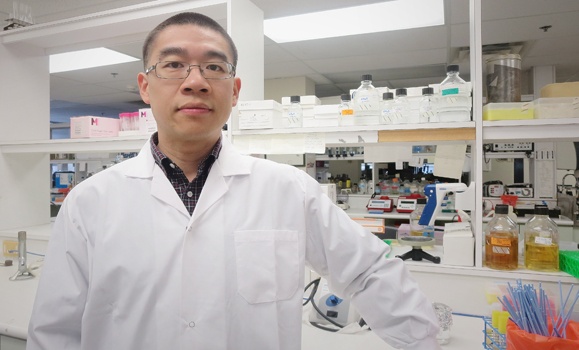 About one in every 3,600 babies born in Canada has cystic fibrosis (CF). It's the most common fatal genetic disease affecting Canadian children and young adults.
Dr. Zhenyu Cheng, a microbiologist at Dalhousie Medical School, is studying a bacterium called Pseudomonas aeruginosa. The microbe can trigger disease in plants and animals, and it's particularly dangerous for people living with cystic fibrosis. In CF patients, the pathogen causes persistent lung infections that lead to progressive destruction of lung tissue.
"People who have cystic fibrosis are very susceptible to P. aeruginosa. It's an opportunistic pathogen that can pry on weakened immune systems," says Dr. Cheng, assistant professor in the Department of Microbiology & Immunology. "And it's pervasive; it's found everywhere in our environment."
Using plant biology to improve human health
Dr. Cheng's laboratory is one of only a handful in the world that focuses on defense responses against P. aeruginosa in both plant and animal models. His research team is trying to figure out how to prevent the bacterium from taking hold in the body – especially in those who have immune deficiencies.
"Because P. aeruginosa cells tend to survive antibiotic treatment, it's especially hard for CF patients – and others who are immunocompromised – to get rid of this infection," explains Dr. Cheng, who was recently recruited to Halifax after finishing postdoctoral training at Massachusetts General Hospital and Harvard Medical School.
"If there's enough of the pathogen accumulated, once the immune system is not at its full strength, P. aeruginosa can kick in and cause all sorts of complications in the long-term. It's a huge problem for CF patients; it's the leading cause of their morbidity."
Boosting the human immune response
Trained as a plant biologist, Dr. Cheng and his colleagues are seeking new ways to boost the immune system in order to prevent – or fight off – P. aeruginosa infection. It's long been thought that microbial pathogenesis invade plants and animals in similar ways.
"In my postdoctoral lab, I identified a novel immune pathway that can defend against P. aeruginosa in a plant host. So now I want to investigate how these pathways play a role in P. aeruginosa infection in the human immune system. I'm taking what we found in the plant model and applying it to humans."
Seeking ways to improve antibiotics
"Another line of research in my lab is to try to understand how P. aeruginosa develops resistance to treatment. The goal is to better design and screen for compounds that will enhance the effectiveness of existing antibiotics," says Dr. Cheng. "This should then lead to the identification of new drug candidates that can alleviate – by killing off the bacterium – the devastating inflammation in the lungs of CF patients."
Dr. Cheng's research is funded by Cystic Fibrosis Canada (CFC). He was recently awarded the CFC's Marsha Morton Early Career Investigator Award to advance his work.