News
»
Go to news main
AART‑‑Helping the one in six couples who face infertility to conceive
Posted by
Melanie Jollymore
on May 18, 2016 in
News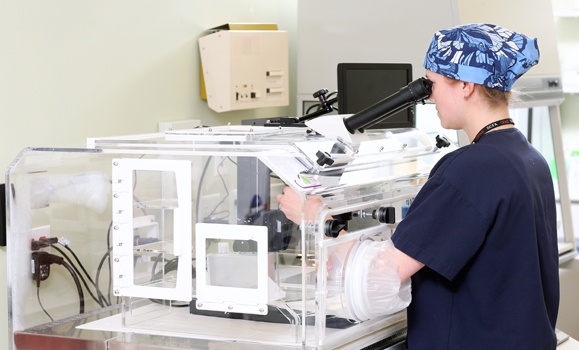 Couples in Atlantic Canada who are struggling to conceive can access one of the country's top fertility clinics in Halifax.
Established by Dalhousie Medical School's Department of Obstetrics & Gynaecology in 2004, Atlantic Assisted Reproductive Therapies (AART) recently became the first and only fertility clinic in Canada to adopt the most up-to-date technology for assessing and preparing eggs and embryos for fertility procedures.
The clinic's new climate-controlled Cell-Tek chamber will enable it to improve its pregnancy success rates—already among the best in Canada at more than 55 per cent per cycle started for women under 35—while nearly doubling the fertility procedures it can perform a year.
"We have the capacity to handle 500 in vitro fertilization cycles a year, with utmost attention to the quality and wellbeing of the embryos," says Dr. Linda Hamilton, AART's medical director and an associate professor in the Department of Obstetrics & Gynaecology. "Not only do we provide the safest possible environment for preparing embryos, we have introduced an instant freezing method that protects embryos' integrity when implantation needs to be delayed."
An ideal environment for vulnerable new life
Installed this spring, AART's new Cell-Tek workstation provides the optimal environment for eggs and embryos by strictly controlling temperature, humidity and carbon dioxide levels in the fully enclosed chamber, while filtering impurities such as dust particles, microbes and volatile organic compounds from the air inside.
"Research shows that these third-generation workstations can increase the numbers of viable embryos by as many as 50 per cent," says AART's scientific director, Dr. David Mortimer, a reproductive biologist who advises fertility clinics all around the world. "In addition to its climate-control features, it is equipped with a high-powered microscope to allow staff to carefully examine eggs and embryos, and to conduct biopsies for preimplantation genetic testing of embryos."
AART embryologist Dr. Megan Dufton laid the groundwork for such preimplantation genetic testing, conducting an in-depth feasibility study as part of her postdoctoral training through the Department of Obstetrics & Gynaecology. She and her colleagues have since trained intensively to perform the delicate task of removing two- or three-cell samples from the layer of the embryos' cells that will form the placenta. The embryos are then frozen at AART while the samples are sent to New Jersey for genetic testing. This identifies any chromosomal abnormalities or serious inherited conditions, such as cystic fibrosis or hemophilia, so that only unaffected embryos are thawed for implantation.
Frozen in time
The new freezing technology is so safe and effective, frozen embryos remain viable for many years. AART has also been training its staff and equipping its facilities to freeze and store eggs, in addition to embryos, for women who need to delay, or protect, their childbearing potential.
"Women who require chemotherapy or radiation for cancer, for example, face a high risk of infertility after the treatment is over," notes AART physician Dr. Michael Ripley, an assistant professor in the Department of Obstetrics & Gynaecology. "We can freeze their eggs or embryos, so they have the option to pursue pregnancy later, when they recover their health."
AART receives no public funding and operates as a self-sustaining, not-for-profit clinic serving the four Atlantic provinces.
"Infertility is not a choice but an increasingly prevalent problem faced by one in six couples in Canada," says Dr. Hamilton. "It can be devastating. We're proud to help couples build the families they so deeply desire, with success rates as high as anywhere in the country."