News
»
Go to news main
Art of the city: Dal students and faculty take part in Halifax's Nocturne festival
Posted by
Ryan McNutt (with files from Allison Gerrard, Allison Kincade)
on October 14, 2016 in
News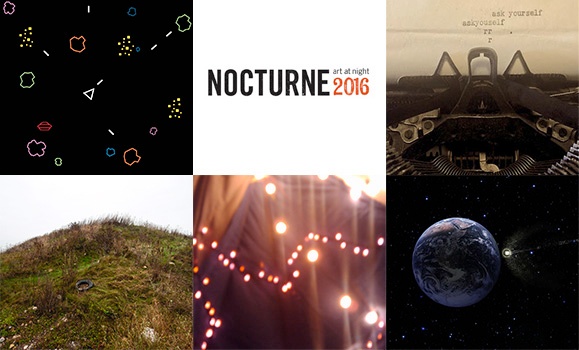 Nocturne: Art at Night is an annual art festival that takes place each fall. On Saturday night (October 15), from 6 p.m. until midnight, the streets of Halifax will come alive with creativity as galleries open their doors and public spaces are filled with art, music and culture. Best of all: everything is free of charge.

Dalhousie always has a prominent presence in Nocturne, taking part both as a venue and through contributions from members of the Dal community. This year is no exception, with exhibitions from Architecture, Medicine and Music students, Computer Science researchers and more.
Here's a look at five Dal exhibitions you'll want to add to your Nocturne plans.
SpaceHopper – Graphics and Experimental Media Lab, Dalhousie Computer Science
Bishop's Landing, Lower Water Street


Every year, Derek Reilly and a team of faculty and students represent Dalhousie's Faculty of Computer Science at Nocturne.

Over the past four years, Reilly's exhibitions have included a giant, interactive art-tech game called Tweetris (winning him the 2012 Artist Award); a collaboration with Parks Canada to help attendees tap into the Citadel's history in a mixed virtual reality game called "Operation Citadel"; a mash-up game of beach volleyball and the classic video game Pong; and, most recently, building on a previously-developed photography exhibit by adding an interactive digital component called "Are We Really Strangers?"

You may note a pattern here: every other year, Dr. Reilly and his team bring back a retro game for all to enjoy in a new way. Sure enough, for 2016, it's the popular arcade classic Astroids getting the 21st century treatment.

SpaceHopper, as the exhibit is called, will have attendees piloting a hopper ball spaceship in a mixed reality game. Asteroids will be projected on the ground around the player; each bounce on the hopper ball causes the ship to fire, and players can bounce to anywhere on the play area. Throughout the evening, the team will be experimenting with visual and interactive effects using the standard vector graphic and gameplay of Asteroids as the base.

"Nocturne is a great opportunity every year for our lab to engage with the public," says Dr. Reilly. "Our graduate and undergraduate students really pull together and work long hours to make this happen. It's fun, and it's research: what more can you ask for?"
Fortitecture – Dalhousie Architecture Student Association
Medjuck School of Architecture – Exhibition Room and Surrounding Exterior Space, 5410 Spring Garden Road


Art may be a serious endeavour in many cases — but it can also be serious fun.

That's what visitors to Fortitecture will hopefully take away from the experience. Created by students with the Dalhousie Architecture Student Association, the exhibit is essentially a giant blanket fort, one illuminated with colours, patterns and textures. The paths all lead to a central room full of creative and engaging activities for visitors.

"A child's first exploration of space is the blanket fort: a safe space where the imagination is allowed to run wild," explains Master of Architecture student Mark White. "Fortitecture came from this place. We really wanted to create an exhibition where adults could remember what it was like to be a kid, and for kids to remind us what it means to play."

Mark and fellow master's students Kelly Caughlin and Shalini Makdani planned the concept, with a team of about 10 students from both bachelor and master's programs helping design and install the exhibition. The materials have been generously donated from local hotels (the Hampton Inn and Four-Points Sheraton).

"We've been doing a lot of experimenting with this project and have come up with a really great design which challenges the way we think about, and move through, space," says Mark. "The Exhibition Room is a big white space and we hope audiences will help us fill it with colour and laughter."

Voyages – Society of Dalhousie Music Students
Anglican Cathedral Church of All Saints, 1330 Martello Street


If you're looking for a place during Nocturne to relax and let some music (and movies) do the moving, the Anglican Cathedral Church of All Saints fits the bill perfectly.

For the third year in a row, the Society of Dalhousie Music Students has prepared a multimedia exhibition combining live performance with film. Voyages is an original piece with three movements, each composed by a Dal student: Hsiu-Ping (Patrick) Wu (third-year Composition), Roland Smith (fourth-year Composition) and Packer Woo (fourth-year Composition and Performance). Roland will conduct the performances (partially improvised), while Patrick developed the visuals with illustrations also provided by Emily Coll (NSCAD).

"In order to match up with the Nocturne concept this year — "Motive" — we tried to create a film about a character exploring the beauty of earth to motivate the human race to preserve our home," explains Patrick.

The concept of Voyages images a distant future in which humans, forced to live in space, return to Earth to determine its status, and a sole survivor of a crash landing ends up exploring a now-habitable post-apocalyptic landscape. An original story of humanity versus nature and technology, it aims to raise questions about our species and whether we're able to learn from our mistakes. The visuals involve natural and urban photography, original video, and abstract imagery.

Voyages follows previous popular entries from the Society of Dalhousie Music Students, including 2014's Balance and 2015's Echoes (the latter of which was performed at the Halifax Central Library). Those were led by now-alumni Andrew Coll and Craig Lang, who also have their own Nocturne entry this year, Prism, a multimedia installation at the Maritime Museum of the Atlantic (Small Craft Gallery).
Ask Yourself – Dalhousie Medical Students' Society
Museum of Natural History, 1747 Summer Street


Dal's Medicine students are participating in Nocturne to encourage people to share their motivations in making healthy lifestyle changes, as well as the barriers they may face in making these changes.

"I've been attending Nocturne since the beginning and had fleeting thoughts of submitting an exhibit before," says second-year student Matthew Lee. "But this year, as DMSS humanities rep, it became something I really wanted to make happen."

The piece, Ask Yourself, draws on motivational interviewing – a technique used in the health professions to support behaviour modification.

"I'm interested in interactive, provocative forms of open-minded learning and artistic communication," says Jonathan Oore, also in the Class of 2019. "I am curious about what the arts scene in Halifax has to offer, and would like to have fun being more involved, especially in a medical context."

"This is a multimodal installation dedicated to self-reflection and to the possibility of sharing motivations to change. One may choose be vulnerable with oneself here."

Information on how to access health services such as smoking cessation and addictions treatment will be available at the medical students' installation.
Dirt Piles and more — Dalhousie Art Gallery
Dalhousie Art Gallery, 6101 University Avenue


It may be a few steps away from downtown, but Saturday night is as good a time as any to visit the Dalhousie Art Gallery. Currently featured is Dirt Piles, a photography exhibit from Guelph-based artist Lisa Hirmer. The ongoing series captures mounds of soil, rock, and plant material left abandoned following new construction, weaving its way back into the "natural" landscape. (If you can't make it during Nocturne, you can also learn more about the exhibit at an artist talk with Hirmer on Thursday, October 20 at 7 p.m.)

Also on display at the Art Gallery are Stitched Stories, a curated collection of family quilts and accompanying poems from writer and Dal English lecturer Shauntay Grant, and The Dress, a selection of garments worn by The Honourable Mayann Francis (Distinguished Public Service Fellow in the School of Public Administration) while she served as the Lieutenant Governor of Nova Scotia.
*Blanket photo by joshua twentythree, used under Creative Commons license.