News
»
Go to news main
HOPES
Posted by
Melanie Jollymore
on March 16, 2017 in
News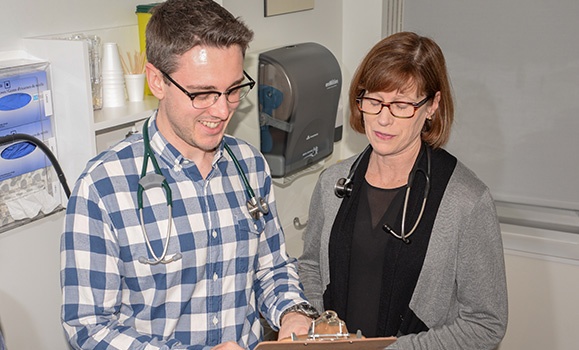 Students band together to provide interdisciplinary care to homeless in Halifax
Students in nine different professional programs have joined forces to tend to the unmet health needs of low-income, vulnerably housed and homeless people in Halifax, through a new student-led initiative called HOPES (Halifax Outreach Prevention Education & Support).
Beginning this February, students in Dalhousie's medicine, nursing, dentistry, pharmacy, social work, occupational therapy, and health administration programs—as well as in Medavie's paramedicine and Mount Saint Vincent University's dietetics programs—are providing health education, navigation assistance and clinical care to people who might otherwise fall through the cracks of the health care system.
Through the HOPES multi-faceted approach, junior students provide information, initial screenings and general guidance on Sunday afternoons at the St. Andrew's United Church on Robie Street in Halifax, in conjunction with the long-running Sunday Suppers and Walk in Our Shoes programs at the church. Meanwhile, senior students work in interdisciplinary teams, supervised by volunteer preceptors, to provide clinical care at the HOPES Health Centre on the corner of South and LeMarchant streets (Dalhousie Health Services location).
Many needs and many barriers to care
"People who lack a secure income or housing face many barriers when it comes to accessing health care," notes Braydon Connell, a second-year Dalhousie medical student who is co-executive director of HOPES alongside Heather Webster, a student in Dalhousie's combined master's program in health administration and law.
While planning HOPES, the students conducted an environmental scan to get a better handle on the problems that people with no fixed address face when they need health information or care.
"We surveyed many stakeholders, including clients of the Sunday Night Suppers and Walk in Our Shoes foot care clinic," says Connell, who first got involved in HOPES in 2014 when he was a senior student in Dal's occupational therapy program. "They told us that a lack of transportation to get to a clinic, the lack of a phone to arrange an appointment, the lack of money to pay for medications, and even the sense that people in the system were looking down at them, were among many factors that made it hard for them to receive the care they needed."
A small group of students who volunteered at Sunday Suppers and Walk in Our Shoes were inspired by their experience to launch the HOPES program.
"The idea for HOPES started in 2013, with some medical and nursing students who could see that their clients had complex needs far beyond their foot problems that simply weren't being addressed," Connell explains. "They put their heads together and gradually pulled in more and more students from other programs to develop a governing body and implementation plan for HOPES."
To learn more about the health issues affecting homeless people in Halifax, the students reached out to MOSH (Mobile Outreach Street Health), a well-known nurse-led street-level initiative. MOSH had conducted its own study in 2012, so was able to inform the students that arthritis, migraines, mental health problems, addictions, asthma, COPD, pregnancy, diabetes and injuries are among the main issues.
Students respond to the call

Braydon Connell and Heather Webster are co-executive directors of the student-led HOPES clinic. (Provided photo)
After several years of planning—including developing the governance structures and models of care, recruiting and orienting volunteer students and preceptors, selecting locations, procuring supplies, and ensuring all the appropriate licences, permits, protocols and insurances were in place—HOPES was ready to launch. One of the challenges along the way was to figure out how to manage the onslaught of eager students.
"We were hoping for about 50 students so we weren't entirely prepared when 220 expressed an interest," says Jelsi Mynott, HOPES' communications coordinator and a student in Dal's Dalhousie's combined master's program in health administration and law. "We had to go with 'first-come, first-served' and start a waiting list. More than 100 attended our volunteer orientation in January."
Vanessa Langille, a recent MSVU dietetics graduate, first got involved in HOPES in 2014 at the urging of her sister Adrienne Langille, a Dal dentistry student at the time.
"The clients at the St. Andrew's Sunday Suppers have said that learning to eat as healthy as they can within the limits of their circumstances is very important to them," Langille says. "The dietetics students will be doing a lot of demonstrations and teaching at the church, while helping patients with more specific dietary concerns as part of an interdisciplinary team at the Health Centre."
HOPES is still looking for more preceptors to supervise the students in their work at the HOPES Health Centre. "I think faculty members and professionals in the community who get involved as preceptors will find it very rewarding to work with such motivated students," says Jenna MacGregor, a first-year Dalhousie med student who is also the HOPES preceptor coordinator. "We're looking for a four-Sunday commitment from preceptors, per semester."
Several faculty members who have championed the students' efforts from the beginning are now volunteering as preceptors—Dr. Marion Brown (social work) and Dr. Carmelle O'Keefe (occupational therapy).
A number of nurses and physicians have also signed up, including Dr. Cindy Forbes, a family physician in Fall River, N.S, and immediate past president of the Canadian Medical Association. Dr. Forbes is thrilled by the opportunity to supervise students in looking after the needs of an underserved segment of the population—particularly because the initiative is both student-led and interprofessional.
"It's exciting to see students learning in interprofessional teams they've formed of their own volition," says Dr. Forbes. "Taking the initiative to gain this exposure to working in interprofessional teams bodes well for these students' careers and for patient care in the future."
Research shows that interprofessional collaboration is linked to better communication and job satisfaction among professionals, and better health outcomes for patients.
"HOPES provides health professional students with the perfect medium to put what we've learned about teamwork into practice, while making meaningful connections with people in our community," says Claire Parmiter, fourth-year nursing student. "The hands-on interprofessional practice gives us a real-life sense of how we can turn to each other to effectively and efficiently provide care to our clients."
To work with interdisciplinary teams of students as a HOPES Health Centre preceptor, contact Jenna MacGregor at preceptor.hopessrc@gmail.com.