»
Go to news main
Time and Compassion: The Key to Outstanding Patient Experience
Posted by
Nicole Marie LeBlanc
on May 16, 2017 in
News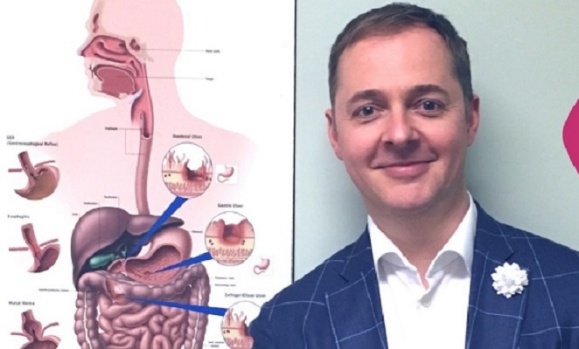 Dr. Geoff Williams is the only physician in the province to perform endoscopic ultrasound. But that's not what makes him an exceptional physician—his personalized and humanized approach to patient care do. 
"I look at their health care holistically and take the entire patient into perspective," Dr. Williams says. "It's not just about performing a procedure or prescribing a medication, I like to take in all aspects of what's important to them in their life, then bring it into my treatment plan. It helps empower the patient." 
His patient dedication was recognized by the oldest medical association in Canada, Doctors Nova Scotia. 
On April 20th, Dr. William's received the 2017 Patient's Choice Award—an honour that recognizes physicians who have created meaningful relationships with their patients and made significant contributions to the health and well-being of their community. Doctors Nova Scotia established the award in 2016. 
This year, patients in the Halifax Regional Municipality collectively submitted 62 award nominations.
A committee of physicians reviewed the nominations and selected the winner.
Passion for Compassion
Four days of Dr. Williams' week is devoted to his clinical practice, where patient care is his Number One priority. 
"My practice is largely endoscopy-based, but I perform a broad range of clinical activities, including clinics, inpatient consultation service, and night-time call service" he says. 
A gastroenterologist, Dr. Williams has fellowship training in endoscopic retrograde cholangio-pancreatography (ERCP); diseases of the gallbladder, biliary system, pancreas, and liver; and, endoscopic ultrasound (EUS), a technique allows him to obtain tissue to diagnose tumours along the GI tract, such pancreatic tumours. 
Crohn's disease, colitis, gastrointestinal (GI) bleeding, colon cancer, and celiac disease are some ailments he diagnoses and treats in his practice. Often, he is responsible for confirming a pancreatic cancer diagnosis and delivering the diagnosis to his patients. 
"In my day-to-day practice, I'm dealing with a broad array of general GI symptoms and diseases, but a significant component of my practice is dedicated to GI cancers. While all issues are important, it is different treating a patient with pancreatic cancer," he says. "There's an art to dealing with a patient you've met for the first time and you're giving them very significant news that will have a huge impact on their life." 
In his approach to patient care, he places significance on empowering those he cares for in his general GI practice, using the power of education to give his patients control over their diagnoses. 
"Even if I can't fix the problem, I feel I can make someone better than they currently are," he says. 
Time is the most significant challenge in his practice. 
"I offer my patients my time. I'm strapped for time, as most in healthcare are, but I always make time. I think I offer humanistic approach. They know that their issues are being heard. I try to have an open door policy. My patients know they can call my office, and while I won't be on the other end of the phone, I will call them back personally," he says.
Making Time for Halifax Homeless
Somehow, in his time-strapped life, Dr. Williams finds time for volunteer work in the community. He takes a particular interest in homeless people, a marginalized group for whom he always makes time. He has the utmost compassion for them, and he isn't alone. His wife's parents are heavily involved in helping the homeless in Saint John, New Brunswick, and run their own food bank through their church. 
"They've dedicated their lives to helping homeless people. Their commitment really hit home for me," says Dr. Williams regarding his family's connection to the homeless in our neighboring province. 
"Helping the homeless in Halifax, and around the globe, is one of the most pressing needs. When I walk down Spring Garden road, I think homelessness is one of the bigger issues. Anything that could help them would be a good thing," he says. 
The Patient Choice Award includes a $5,000 grant to donate to a community charity of the winning physician's choosing. Dr. Williams states, "I knew right away what I wanted to do with that." 
ARK is an organization devoted to providing the necessities of life—food and shelter—to Halifax homeless youth aged 16- to 24, and one in which Dr. Williams has been connected for over three years. 
"I led a team in the (Coldest Night of the Year) walk over the past three years. We raised money and it felt great to help the homeless. I've been involved in other charities, but in this one people feel the impact. We see homeless people every single day. I think homelessness is a very real issue for Nova Scotians.. People are very enthusiastic about donating," says Dr. Williams on his involvement in ARK's Coldest Night of the Year, a 5K charity walk that raised over $80,000 this year in the city of Halifax alone. 
Alongside the annual walk, Dr. Williams has volunteered at Sunday Dinners, also hosted by ARK, and has several colleagues who are intimately involved in the organization. 
Supporting Educational Initiatives
Dr. Williams terms himself an "academic clinician" to represent his incredible and wide-ranging titles—a term far too simple to encompass the scope of responsibility for each. 
He devotes one day per week exclusively to education, in his role as Assistant Dean of Postgraduate Medical Education, though teaching is an integral part of his clinical practice on a daily basis. 
As an Assistant Dean, he has helped develop #DalMedForward, Dalhousie Medical School's five-year strategic plan. Mainly, he's contributed in the areas of educational excellence, the health needs of the Maritimes, and leadership through medical education scholarship. 
Dr. Williams also teaches at the undergraduate level within the Department of Medicine (Division of Digestive Care & Endoscopy and the Division of Medical Education), where he is an associate professor. 
Given his extensive knowledge in the medical field, and experience in teaching, it's no surprise that many turn to him for advice or assistance with teaching programs and educating the next generation of clinicians. 
On May 18, Dr. Williams will lead a workshop designed to improve the skills of practicing clinicians— Reviving Bedside Teaching in Clinical Practice: A How-To Guide—hosted by Dalhousie's Continuing Professional Development (CPD) office.
Advocating for Change
In addition to providing support to his patients and to three departments within the Faculty of Medicine, Dr. Williams consistently provides support to the medical profession through research, advocacy, and education—another requirement of the Patients' Choice Award. 
Recently, Dr. Williams was approached to assist in correcting a growing health crisis facing Canada: opioid misuse and abuse. 
Dalhousie's Associate Dean of Postgraduate Medical Education, Dr. Andrew Warren, appointed Dr. Williams chair of the task force on Opioid Prescribing Education and Residency Education—a team consisting of multiple physicians across multiple disciplines, the CPD office, current residents, and local experts. The opioid task force will establish an educational plan that will apply to all residency programs. 
The Faculty of Medicine is already teaching doctors and learners how to safely prescribe opioids across the medical education continuum (Read more in Dalhousie Medical School launching new opioid-prescibing education programs for learners and physicians). 
- - - 
Dr. Williams joins nine other physicians honoured for exemplary achievements at the Doctors Nova Scotia annual conference on June 2nd and 3rd at the Halifax Word Trade & Convention Centre.