»
Go to news main
Above and Beyond for Students: Meet the 2017 Rosemary Gill Award Winners
Posted by
Matt Reeder
on June 9, 2017 in
News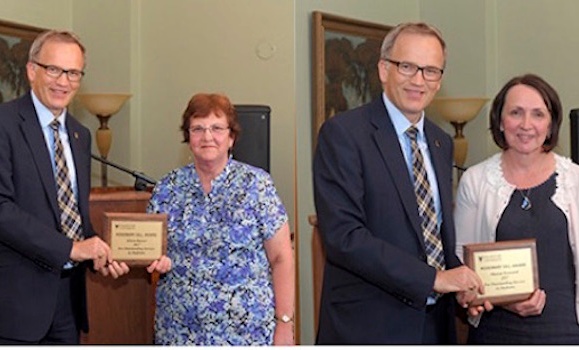 The Rosemary Gill Award, an honour created specifically to recognize those individuals at the university who have provided outstanding service to students in a non-teaching capacity.
This year, we congratulate two within our Faculty honoured for providing outstanding service to our students - Sharon Forward and Eileen Kaiser.  
Sharon Forward, Faculty of Medicine
Sharon Forward is often the first person students come into contact with when they apply to medical school at Dal. And for nearly 30 years, she has worked tirelessly to make what can be a nerve-wracking process as seamless and comfortable for students as possible.

Sharon got her start in the Faculty of Medicine in 1989 as a coordinator in the Undergraduate Medical Education Office, where she spent 13 years working on everything from curriculum and evaluation initiatives to organizing scholarships, awards and convocation.
Eileen Kaiser, Department of Pathology
When Eileen Kaiser joined Dal's Department of Pathology more than 25 years ago, its master's program had only three students. Today, it has 32. She has played an important role in fostering a sense of community in the department as it has grown (including the addition of a PhD program in 2003), connecting students with each other and with faculty and staff.

Officially, Eileen has three different titles in her department: administrative assistant, graduate secretary and department head secretary. She has been praised for her problem-solving skills and for helping students through challenging personal and professional situations, and has been described as a "keystone" to grad student success.
The award is named after Rosemary Gill, a graduate of the Faculty of Medicine. Later, she became director of Student Health Services from 1985 until shortly before her death in 1991, and throughout was an exemplar of incredible service to students.
Read more on Dal News.