»
Go to news main
Bringing Dal‑developed cancer treatment technology to the world
Posted by
Matt Reeder
on June 27, 2017 in
News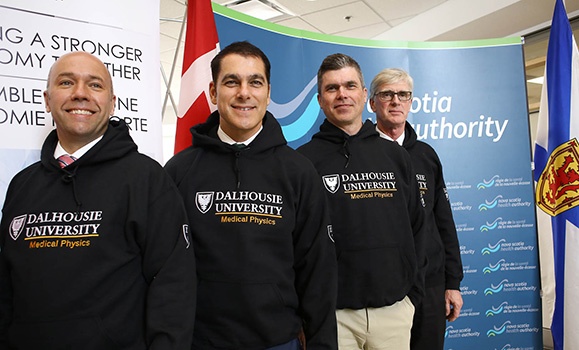 A new $2.1-million investment from the federal government will help Dal researchers build on advances in precision cancer-treatment technology and bring them more quickly to patients in need around the world. 
Faculty of Medicine researcher James Robar, chief of Medical Physics at the Nova Scotia Health Authority (NSHA) and director of Dal's Medical Physics program, and his team will use the funds to expand their work on developing and improving technologies that allow doctors to deploy radiation treatment in more precise, less-invasive ways that improve patient outcomes.
Dr. Robar provided attendees with a brief overview of each technology. They range from a capacitive patient-monitoring system that provides sensitive readouts many times a second about where a patient is during treatment to an algorithm that can enable more precisely target radiation treatments that result in less damage to surrounding healthy organs and tissue.
"We know that we have to move beyond and further than publishing papers and theses because we want these ideas to reach and benefit patients," said Dr. Robar, crediting Brainlab for its help in giving his team a channel for technologies that "began as ideas on a whiteboard."
Read more on Dal News.