»
Go to news main
SHINE on: Loran Morrison Recipient of 2017 Volunteerism Award
Posted by
Mark Campbell
on October 13, 2017 in
News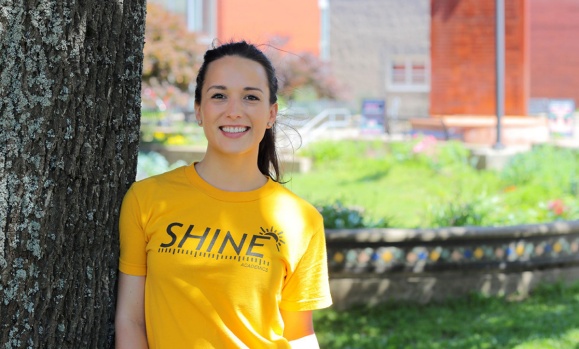 Loran Morrison SHINEs a light on bright futures.
In 2013, Loran found her passion. Along with Chloe Zinck, she co-founded SHINE Academics, a volunteer-run free tutoring program that offers primarily science and math help to students in need. Held at the Halifax North Memorial Public Library, third year medicine student, Loran, organizes groups of volunteer tutors who have benefited from the program as much as the volunteers. 
"SHINE acts as a platform for people to become leaders in our community," says Creighton
Her accomplishments led to her receiving the 2017 Dalhousie Alumni Association Volunteerism Award. This award recognizes those who give of their time and talents to create, expand or grow programs to benefit their community or society as a whole. 
"When you volunteer in your community, you're doing something that adds energy, excitement and meaning to your life," Morrison explains. "That's what SHINE has done for me. To see students who were certain they couldn't do math now entering their second year of university is just incredible."
Read more about Loran and the SHINE program.  
Read the Dal News Story: Meet the 2017 Dalhousie Alumni Award recipients