»
Go to news main
Zebrafish lead Dalhousie researchers to important discoveries in prostate cancer and leukemia
Posted by
Melanie Jollymore
on November 22, 2017 in
News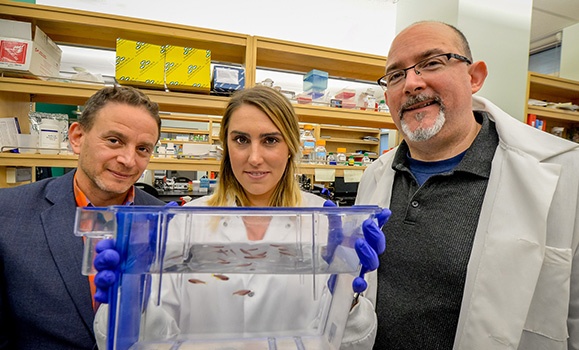 The zebrafish, a four- to six-centimetre minnow, has led researchers to remarkable revelations about the development and treatment of human disease.
These include a surprising discovery about prostate cancer, and a hopeful one for childhood leukemia, in studies led by Dr. Graham Dellaire and Dr. Jason Berman at Dalhousie.
Dr. Dellaire's main interest is the treatment of solid tumours found in breast, lung and prostate cancer. He sees zebrafish as an important vehicle for developing personalized cancer therapies.
"If we can inject the embryo with cells from a human tumour and then introduce a range of chemotherapy treatments, we can figure out which one works best for a particular patient," he says. 
Read more on Dal News.