»
Go to news main
Dal PhD candidate among elite young scientists nominated to attend Lindau Nobel Laureate meeting
Posted by
Elissa Barnard
on December 11, 2017 in
News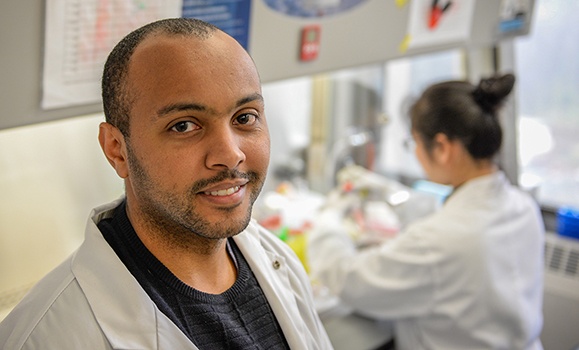 Award-winning Dalhousie PhD student Simon Gebremeskel is a pioneer in discovering how the immune system can fight cancer.
Gebremeskel is working with Dr. Brent Johnston in Dalhousie Medical School's Department of Microbiology & Immunology to develop a cancer treatment that kills cancer cells by both activating the immune system and introducing viruses that kill cancer cells. This novel combination strategy — of immunotherapy plus oncolytic viruses — could be available within a few years.
"What's becoming clear in the field of cancer therapy is the majority of cancer patients should be looked at as patients who have immune deficiency," says the Kenyan-born scientist, who did his undergraduate degree at Queen's University. "Normal cells in our body become transformed quite frequently into pre-cancerous or early-stage cancer cells. Evidence suggests the immune system is able to recognize these changed cells and clear them off."
Read more on Dal News.