»
Go to news main
More than meds
Posted by
Dawn Morrison
on December 15, 2017 in
News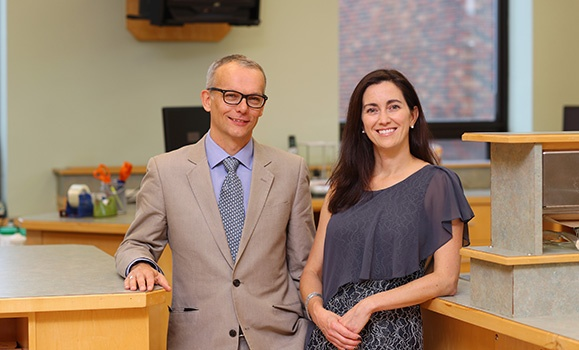 While most people live within five kilometres of a community pharmacy, not many know the full scope of information and services they provide. David Gardner and Andrea Murphy are working to change that, and at the same time significantly improving access to mental health care in Nova Scotia.
Their work is gaining national attention. A pharmacist and professor in Psychiatry and Pharmacy, Dr. Gardner was recently named one of 150 Canadians Making a Difference in Mental Health by the Centre for Addiction and Mental Health (CAMH). He was chosen for the national award from over 3,700 names put forward from across the country and was selected as one of the four Difference Maker stories featured by the Globe and Mail.
More than seven million Canadians will experience a mental illness this year, and many of them face significant barriers to accessing care. Recognizing the fact that pharmacists are the most accessible health care professionals in the country, Dr. Gardner co-developed The Bloom Program with Dr. Murphy, an associate professor with the College of Pharmacy at Dalhousie.
"We know that here in the Maritimes we have constrained health care resources and that the community pharmacy is so accessible," says Dr. Gardner. "These programs are a kind of scaffolding that support pharmacists in their care of people with mental illness and addictions — they enable community pharmacies in providing enhanced, patient-centred care." 
Read more on Dal News.