»
Go to news main
Dal researchers target cannabinoid receptors with new line of pain relief products
Posted by
Margot Brunelle
on December 18, 2017 in
News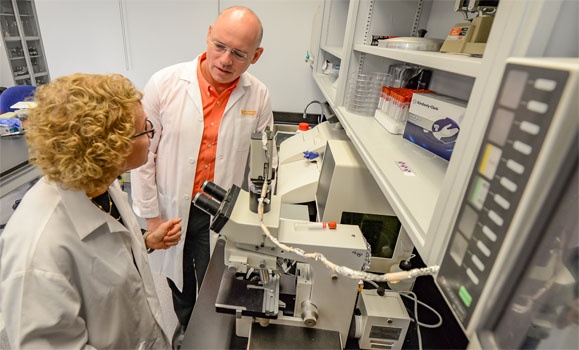 Pain specialists and scientists at Dalhousie Medical School are on the brink of answering that call. They've launched a company, Panag Pharma Inc., through which they're developing a list of non-addictive pain-relieving products containing cannabinoids and similar compounds found in cannabis and other plants.
"Because none of the ingredients is a controlled substance, people will be able to use the cream without a prescription," says Panag's chief scientific officer, Dr. Melanie Kelly, a professor in the departments of Pharmacology and Ophthalmology & Visual Sciences who's been studying cannabinoids and their receptors for more than 20 years. "Health Canada has approved it to be sold over the counter as a natural product; we hope to see it on the market in 2018."
By pressing ahead with well-researched, precisely formulated and targeted products, Panag Pharma aims to offer safe, reliable and effective alternatives for a range of painful and inflammatory conditions — free of unwanted side effects.
Read more on Dal News.