»
Go to news main
Dal Med researchers secure $7.7 million and top‑rankings in latest CIHR competition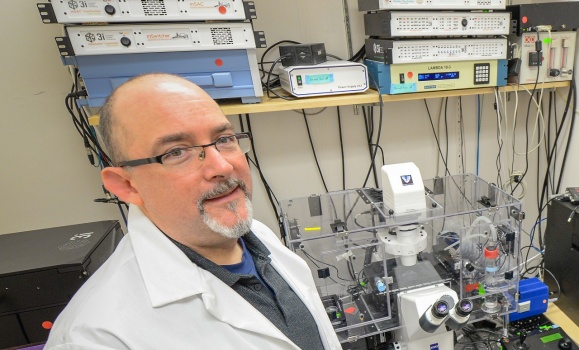 Researchers at Dalhousie Medical School and the Nova Scotia Health Authority secured $7.7 million in the latest Canadian Institutes of Health Research project competition.
Of 66 proposals, 11 were successful, marking a success rate just ahead of the national average. Three of the successful applications were ranked #1 by their review committees.
"This is the highest level of success we've seen in CIHR competitions in several years," says Dr. Roger McLeod, the medical school's associate dean of research, noting that top ranking in a CIHR review committee is a very big deal. "Each committee reviews 50 to 60 applications and funds only 7 or 8, so ranking at the top of a field of this magnitude is a clear indication of exceptional quality." 
The three top-ranked applicants—Dr. Susan Howlett (Pharmacology), Dr. Kenneth Rockwood (Medicine), and Dr. Matthew Herder (Pharmacology)—are exploring issues that have major implications for Canada, given its aging population. 
Dr. Howlett's grant will fund a five-year study of the impact of low testosterone levels on heart function and structure in both men and women as they age. Meanwhile, Dr. Rockwood and his team will explore the effect of frailty on the expression of dementia in Alzheimer disease. Dr. Herder and his team will use their funding to learn how the pharmaceutical industry's transparency can be increased in terms of revealing potential safety issues identified in drug studies. 
Roger McLeod attributes Dalhousie medical researchers' growing success not only to the quality of their work but to recent initiatives designed to boost their success. 
"We now offer an internal peer review process that provides constructive feedback to help researchers fine tune their grants to the highest standards," he says. "Peer review before submission has proven to double the chances of success—it's no coincidence that 8 of the 11 researchers who were successful this round submitted their applications to a pre-submission review process." 
Internal investments—bridge funding, equipment, start-up, scholarship, matching and various other forms of funding from the Faculty of Medicine, departments, Dalhousie Medical Research Foundation (DMRF), Nova Scotia Health Authority (NSHA), and the IWK and QEII Foundations—have also played a significant role in building the research community and its success in securing outside funding. 
"DMRF, for example, has helped our researchers build their research programs from the ground up," says Dr. McLeod. "And when researchers have found themselves short on funding in these last few very lean years, bridge funding has enabled them to gather that all-important proof-of-principle data that puts them in a position of strength when they apply for external funding. In fact three of the 11 successful applicants to this recent CIHR competition received bridge funding." 
While Dr. McLeod is pleased with the recent success, he points to the obvious fact that, even though 11 researchers received CIHR funding in this most recent round, 55 who applied did not. 
"There is still a lot of very important, very worthy research that did not receive funding," he says. "There needs to be more money designated to health research and innovation in Canada. Not only is it a major economic driver, but when you consider how much is spent on health care—40 per cent of our provincial budget in Nova Scotia—it's clear that improving health is an urgent priority."
The recent $7.7 million represents a very substantial total investment in health research at Dalhousie Medical School and its affiliated teaching hospitals. The 11 recipients are: 
Graham Dellaire, Pathology, $1,063,350 to explore small molecules, enhanced gene editing and DNA repair strategies in the treatment of cancer.


Xianping Dong, Physiology & Biophysics, $634,950 to uncover mechanisms and treatment strategies for overcoming bacterial infections.


Matthew Herder, Health Law Institute, $489,600 to push the boundaries of transparency in pharmaceutical research (1st in committee).


Susan Howlett, Pharmacology, $784,125 to learn how low testosterone levels effect cardiac structure and function in aging men and women (1st in committee).


Angelo Iulianella, Medical Neuroscience, $753,525 to reveal the underpinnings of neurodevelopmental disorders and chart new pathways for effectively treating them.


Petra Kienesberger, Biochemistry & Molecular Biology, Dalhousie Medicine New Brunswick, $685,315 to shed light on the mechanisms of obesity and diabetes-related heart disease, with an eye to finding better ways of treating and preventing this prevalent condition.


Andrew Makrigiannis, Microbiology & Immunology, $680,850 to pioneer a new field in immunology that could lead to novel cancer vaccines and therapies to prevent the recurrence of a dormant cancer.


Kirill Rosen, Pediatrics and Biology & Molecular Biology, $684,675 to uncover a previously unknown breast cancer mechanism and help doctors decide which patients can benefit from drugs that block ErbB2, a protein that drives tumour growth in some kinds of breast cancer.


Kenneth Rockwood, Medicine, $466,652 to determine how frailty influences the risk and expression of dementia in Alzheimer disease (1st in committee).


John Sapp, Medicine, $979,200, to compare the effectiveness of medication versus cardiac ablation in the treatment of the dangerous arrhythmia, ventricular tachycardia.


Phil Tibbo, Psychiatry, $493,425 to study the effect of cannabis use on the structure of the brain's white matter, and disease outcomes, in early-phase psychosis.