»
Go to news main
Residents €"learn the ropes"€ of Competence by Design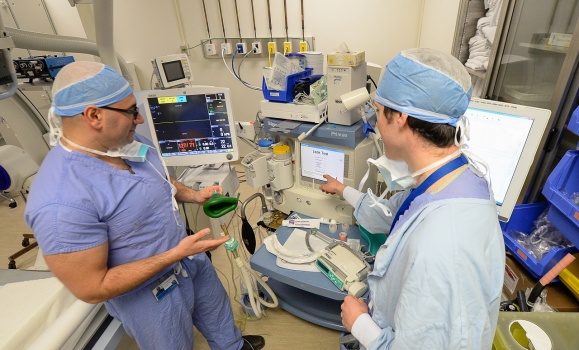 In 2018, five more residency training programs will transition to Competence by Design 
Since July 2017, first-year residents in the Division of Otolaryngology-Head & Neck Surgery have been gaining first-hand experience of what Competence by Design is really all about. 
Competence by Design (CBD) is the Royal College of Physicians and Surgeons of Canada's model for implementing competency-based medical education (CBME) in all specialist residency training programs in Canada by 2022. 
"Competency-based medical education in general—and Competence by Design in particular—is focused on advancing each individual resident's progress toward mastering a clearly defined set of skills for their discipline," explains Dr. Janice Chisholm, who stepped into the new role of CBME lead for Dalhousie Medical School in January 2018.  "It allows them to move quickly in areas of particular strength, and take more time in areas they find more challenging." 
Residents in the Department of Anesthesia, Pain Management & Perioperative Medicine, meanwhile, embarked on their competency-based training a year earlier, through a special Royal College-funded project known as FIRE (Fundamental Innovations in Residency Education). Dr. Chisholm led this demonstration project in her previous role as program director of Dalhousie's anesthesia residency program—becoming a sought-after CBME expert in the process of breaking new ground in this new educational model in Canada. 
Anesthesia and otolaryngology were the first two disciplines to adopt CBME/CBD in Canada. Five more disciplines will follow in 2018: surgical foundations, urology, nephrology, medical oncology and emergency medicine. Schools with forensic pathology programs will also transition those programs to the new model in 2018.
Individualized pathways to professional competence
"Competence by Design has been most beneficial by providing me with additional exposure to advanced procedures early on," notes Dr. David Forner, a first-year resident in the Division of Otolaryngology-Head & Neck Surgery at Dalhousie. "I've been able to practice more technically challenging procedures than might usually be expected outside CBD, with lots of low-stakes evaluations of these skills along the way to give me confidence as I learn." 
Competence by Design deliberately ensures that every resident has the opportunity to prove their mastery of every skill, every step of the way. This increases accountability and promotes transparency within the learning process. 
"Progress is measured in milestones, which are observable markers of step-by-step progress along the way to developing a specific skill," explains Dr. Andrew Warren, Dalhousie's associate dean of postgraduate medical education. "Each discipline has hundreds of milestones which, in turn, are bundled into authentic tasks of the discipline known as EPAs—entrustable professional activities." 
Dr. Warren adds that knowledge, skills and attitudinal competencies from each of the seven CanMEDs roles (medical expert, communicator, collaborator, leader, advocate, scholar, and professional) are woven into the milestones and EPAs. 
To attain an EPA, a resident must demonstrate their ability to perform that task at a level that shows they can be trusted to do this task independently (without supervision), at a professional level of proficiency. 
"If a resident is unable to demonstrate an EPA at that level of proficiency, we unpack it to look at what milestones they have and have not fully completed within that EPA," notes Dr. Chisholm. "The resident then works to improve their skills in those milestones, before being re-tested on the EPA." 
National committees for every discipline have defined—or are in the process of defining—all the milestones and EPAs for every stage of training in their disciplines. EPAs run the gamut, from the basic ability to triage a patient as "sick" or "well," to the advanced skills required to perform reconstructive surgery. 
Dalhousie residents in Otolaryngology and Anesthesia are finding the milestones and EPAs very useful. 
"Though my day-to-day activities aren't any different than if I were in a traditional residency model, the framework of CBD serves as a reminder of what I should be extracting from each learning experience," says Dr. John Wright, a first-year resident in Anesthesia. "In this way, the objectives themselves serve as an enrichment to my learning." 
CBD is structured so residents receive regular ongoing feedback on their progress, allowing them to adjust their technique and improve their skill constantly. 
"Frequent, low-stakes feedback is key to CBD," notes Dr. Warren. "It ensures residents are on track and gives them plenty of advance warning and time to address any weaknesses, so they aren't taken off guard months down the road in a major, high-stakes assessment."
Four developmental stages
The CBD model organizes the activities of resident learning and assessment into four major developmental stages: transition to discipline; foundations of discipline; core of discipline; and transition to practice. Learners must demonstrate competence of the EPAs within each stage before advancing to the next.
"Residents are observed in their performance of entrustable professional activities multiple times, in multiple contexts, by multiple supervisors," Dr. Warren says. "All the same examinations apply—ITERS, OSCEs, Royal College exams—but it's up to the residents to ensure they are on track with all of their EPAs and to talk to their supervisors about supports they may need to improve in certain areas." 
In the CBD model, individual clinical supervisors do not make the decision that a resident has achieved the competence required to progress to the next stage of training. Instead, the program's "competence committee" reviews the resident's assessment results as a group and makes a collective decision about advancement. This "arm's length" approach allows residents' day-to-day teachers and observers to play more of a coaching and mentoring role—rather than  a scrutinizing and evaluating role—creating a more constructive and engaged learning environment.    
Preparing for the transition
The Postgraduate Medical Education Office is overseeing the rollout of Competence by Design, working closely with the Royal College and each program to make the necessary adjustments, both administratively and academically. 
The PGME Office is organizing ongoing faculty development sessions with the programs that are in the midst of adopting—and preparing to adopt—CBD. Detailed competency maps will be developed to familiarize supervisors with the milestones, EPAs and new assessment protocols. 
Senior residents are also impacted by the transition to CBD, as they play a pivotal role in teaching more junior residents. As CBD rolls out, senior residents will be learning under the old model, themselves, while teaching and assessing the junior residents under the CBD approach. 
"We're holding a series of town hall meeting for residents, to present the model to them and give them a chance to ask questions and share their experiences with each other," says Dr. Warren. "There's a learning curve, but we're confident our teachers and trainees will adapt and flourish under this new model. Ultimately, the aim is to take the already high level of our residents to an even higher level of assured competence as they enter practice."