»
Go to news main
CADTH Recognizes Rising Star Dr Michelle Mujoomdar
Posted by
Andrea Tiwari
on April 17, 2018 in
News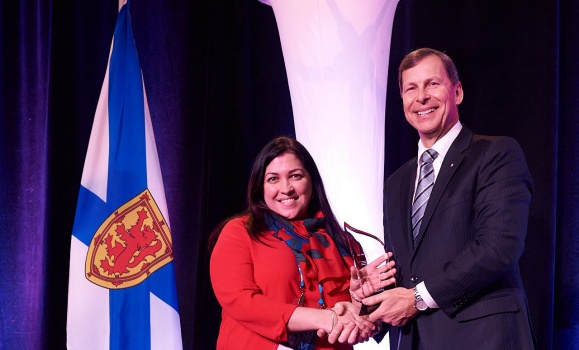 CADTH is pleased to announce that Dr. Michelle Mujoomdar is the 2018 recipient of the Dr. Maurice McGregor Award recognizing rising stars in the field of health technology assessment early in their careers. She will accept the award today at a luncheon in Halifax in front of more than 700 people attending the 2018 CADTH Symposium.
Dr. Mujoomdar joined CADTH in 2008 after studying at Brock University and Dalhousie University, where she completed her PhD in pharmacology, as well as two post-doctoral fellowships in biomedical science. Within CADTH and the broader scientific community, she quickly developed a reputation as a leader, thanks in part to her methodological expertise but also because of her innate ability to help others understand the value that health technology assessment brings to our health system.
"In just under a decade, Dr. Michelle Mujoomdar has become a leading force at CADTH, helping ensure the quality of our work and guiding the evolution of how we approach health technology assessment," says Dr. Brian O'Rourke, CADTH President and CEO. "But beyond the science, she is known in Canada and abroad as a generous colleague, with an exceptional ability to bring people together to achieve a shared goal."
In 2010, Dr. Mujoomdar led CADTH's two-year, $3 million project on optimizing the use of a medical isotope in the event of a global supply disruption. This complex project required the use of novel scientific methods and significant collaboration between her team, health system administrators, and clinicians including oncologists, radiologists, and many others. The impressive end result was an agreed-upon list of clinical conditions and an evidence-informed approach to prioritizing the use of medical isotopes during a shortage.
"I am extremely honoured and humbled to receive this award. To me, it's recognition of the excellent work by the entire CADTH team," says Dr. Mujoomdar. "That team effort, where we focus on collaboration with our partners and stakeholders, is what makes a difference — both in terms of the impact of CADTH's work, and in terms of making my job fulfilling."
In 2011, Dr. Mujoomdar became Acting Director, Health Technology Assessment and Rapid Response at CADTH, where she successfully established the Health Technology Expert Review Panel. Prior to the creation of this panel, CADTH had never convened an expert committee dedicated to delivering recommendations on "non-drug" technologies. In 2013, Dr. Mujoomdar took on her current role of Director, Scientific Affairs at CADTH.
Dr. Mujoomdar recently returned to Canada from a secondment with the European Network for Health Technology Assessment (EUnetHTA), where she worked closely with EUnetHTA's partners and the European Commission to strengthen cooperation in health technology assessment. During her tenure, she provided strategic oversight for the process of joint European assessments of pharmaceuticals. She was also instrumental in developing EUnetHTA's new platform for the provision of scientific advice and worked closely with the European Medicines Agency.
"Dr. Mujoomdar is an outstanding leader in the health technology assessment field because she combines excellent scientific skills with outstanding networking capabilities, a healthy amount of pragmatism, and an enormous amount of productivity," says Dr. Wim Goettsch, former Director of the EUnetHTA JA3 Directorate within the National Health Care Institute in the Netherlands. He worked closely with Dr. Mujoomdar during her time in Europe.
Established in 2014, the Dr. Maurice McGregor Award is named in honour of Dr. Maurice McGregor, retired Chair of the Health Technology Assessment Unit of the McGill University Health Centre and Professor Emeritus of McGill University. Affectionately known to his colleagues as the "grandfather of health technology assessment in Canada," Dr. McGregor was also appointed Officer of the Order of Canada for having pioneered and championed this scientific field in Canada, and for his leadership in medical education and cardiology.
About CADTH
CADTH is an independent, not-for-profit organization responsible for providing Canada's health care decision-makers with objective evidence to help make informed decisions about the optimal use of drugs and medical devices in our health care system. CADTH receives funding from Canada's federal, provincial, and territorial governments, with the exception of Quebec.
For more information contact Andrea Tiwari, Marketing and Communications, CADTH, at 613 614 6863 or andreat@cadth.ca.