»
Go to news main
Introducing Dal's Honorary Degree Recipients for Spring Convocation 2018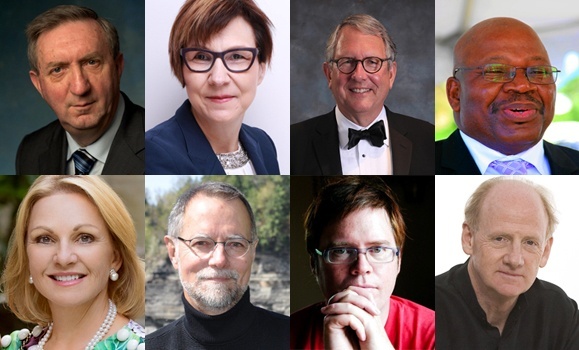 Dalhousie's thousands of new graduates this spring — the class of Dal's 200th anniversary year — will be joined by eight outstanding individuals whose achievements are being recognized with an honorary degree. 

Honorary degrees recognize people who've demonstrated inspirational leadership in, or in service to, society, outstanding contribution to a field or discipline, and/or outstanding contributions to the university.

Honorary degree presentations will take place at eight of the 16 convocation ceremonies at Dalhousie this spring. Convocation begins on Friday, May 11 with the ceremony for graduates of the Faculties of Agriculture and Graduate Studies on the Agricultural Campus. Ceremonies then resume in Halifax on Monday, May 28 and run through Saturday, June 2.
Dr. Thomas J. Marrie
Accomplished physician, researcher and university leader
Monday, May 28 – 9 a.m. ceremony
From humble beginnings as a family physician in his home province of Newfoundland, Dr. Thomas J. Marrie has crafted a truly illustrious career as a medical researcher, teacher, administrator and clinician. A graduate of Memorial University and Dalhousie Medical School, Dr. Marrie spent more than two decades at Dalhousie, becoming Professor of Medicine and founding the Division of Infectious Diseases before leaving for the University of Alberta in 2004 to serve as Dean of Medicine and Dentistry. He returned to Dal in 2009 to become the university's 12th Dean of Medicine, and during his tenure (which ran until 2015) his leadership secured the integrity of the medical school and revised its curriculum to a leading standard in North America. Dr. Marrie coordinated the opening of Dalhousie Medicine New Brunswick in Saint John and was instrumental in establishing the J.D. Irving Ltd. Chair in Occupational Medicine.
Dr. Marrie has served as Chair of the Canadian Residency Matching Service and the Canadian Academy of Health Sciences, and as president of the Canadian Association of Professors of Medicine, the Canadian Infectious Disease Society, and the Canadian Academy of Health Sciences. A Member of the Order of Canada and a Fellow of the Royal Society of Canada, he has been recognized with a Master Clinician Lecturer Award from the Department of Medicine at Dalhousie and a Lifetime Achievement Award from the Association of Medical Microbiology and Infectious Diseases of Canada, among dozens of other awards. He received an honorary doctorate in 2003 from the University of Mediterranean in Marseille, France.
Read more on Dal News