»
Go to news main
Dal Med Innovator | Dr. Lea Steeves
Posted by
Colin Hodd
on April 10, 2018 in
News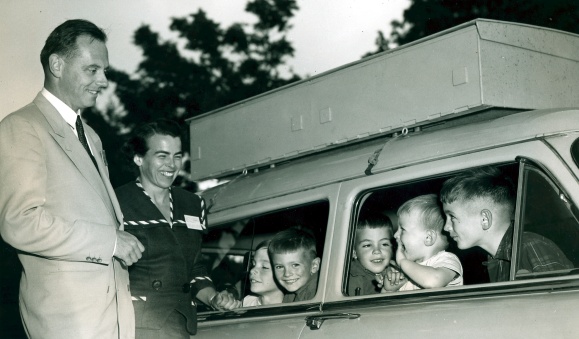 Dr. Lea Steeves: an unorthodox and dedicated teacher and leader
April is the month that Dalhousie hosts the Canadian Conference on Medical Education (CCME) April 28 - May 1, 2018. This annual forum invites medical educators to meet and exchange ideas. Thanks to his connection to continuing professional development, this month's Dal Med Innovator is Dr. Lea Steeves. 

It's 1954. You are Dr. Lea Steeves, a cardiologist and medical professor living in Halifax with your wife and five young sons. You have to go to a meeting of the Canadian Medical Association in Vancouver, but are aware that your job already takes you away from your family too much during the year. What do you do?
An ordinary person with an ordinary approach might accept that sometimes you need to be away from your family in order to provide for them. Or, perhaps, spring for a sleeper car and take them cross-country by train. But Lea Steeves was not a man given to ordinary approaches.
"My father decided it would be interesting to drive across Canada in his Ford station wagon with his family," recalls Dr. John Steeves, himself an associate professor at Dalhousie and president of the Dalhousie Medical Alumni Association. "He was blessed with a very supportive wife, who was game for this trip. He designed and with her help built a 'car-top carrier' so we had storage space for clothes and camping supplies, sleeping room at the top for two, and a shelf over the wheel wells where three children could sleep. He and my mother slept underneath the platform."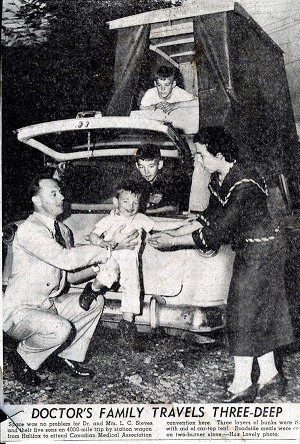 This is just one example of the extraordinary kinds of measures Dr. Steeves was willing to take. When the McGill graduate (cardiology, internal medicine) moved to Halifax in 1948, hoping for a teaching position at Dalhousie Medical School, he set himself up in an office as a consulting physician. This unusual step ruffled feathers among the old guard, who in those days set up private practices in their own homes, as primary care physicians, not as consulting physicians.
"It was tough for him at first," John Steeves recounts. "Doctors jealously guarded their paying customers before Medicare… to send a patient to another physician was incomprehensible. He would say to them, 'I'm not a primary care physician. If you have a problem I will give you advice, but it's your patient, not my patient.'"
Dr. Steeves soon attained a faculty appointment at the medical school and, just a few years later (1955), became its first full-time director of what was then known as postgraduate medical education. This would soon be known as continuing medical education—or CME—and he would make an indelible mark.
CME was highly centralized at the time. Medical schools would decide what additional training doctors needed and provide the courses on campus, requiring community doctors to travel.
Through his discussions with physicians "on the ground" as a travelling consulting cardiologist, Dr. Steeves concluded a new model was needed for the largely rural Maritimes. Communities often had only one or two physicians—leaving their patients for days at a time was not an option. So, instead of making them come to Dalhousie, he decided to take Dalhousie to them.
Decades before phrases like "learner-directed teaching" entered the lexicon, Dr. Steeves consulted doctors in communities throughout Nova Scotia about what they wanted to learn and from whom, and arranged for the teachers to go to the communities.
The overall effect was to give doctors a sense of ownership in their education and instructors a sense of pride in being chosen.
"It didn't just happen through spontaneous combustion, it took organization and a lot of work," notes John Steeves. "My father would travel to every community every year and ask how things went the year before and what ideas they have for this year. In typical Maritime fashion the communities made these visits into events. They would have dinners, they would have a celebration."
Juggling his responsibilities as an administrator, teacher, physician, husband and father called for many unique problem-solving approaches. For example, Lea would sleep in the back of the station wagon while his wife, Katharine, drove to Cape Breton to catch the last ferry on Friday night (before the causeway was built). When they arrived at the hospital, the head nurse would wake up the entire ward for Lea to do "rounds," while Katharine slept in the car. She would take the wheel for the drive back to Halifax, so he could sleep en route and do Saturday rounds later that day.
Even as he worked on large-scale CME programs, Dr. Steeves made time for individual medical students. He often invited them to his home for dinner. John Steeves remembers these evenings vividly: "In those days, if you didn't make the entertainment, there wasn't any. So we usually had lots of music and song and dance. Then, like now, medical students worked hard and they played hard. We got to see virtually every Dal graduate as they were going through."
Dr. Steeves never lost sight of how difficult medical school can be. He made a special project of coaching students who had failed the practical component of their Royal College Certification exams. He would record them on video as they performed a physical exam, letting them see themselves on tape before re-taking the exam. While this may seem run-of-the-mill with today's technology, it was an innovative teaching approach at the time.
Beyond Dalhousie, Dr. Steeves served as president of the Canadian Association of Continuing Medical Education, the Medical Council of Canada, and the Medical Society of Nova Scotia, as well as Atlantic Region governor of the American College of Physicians. At one point, he received the Duncan Graham Award for excellence in teaching from the Royal College of Physicians and Surgeons. His son believes his real professional pride was in teaching.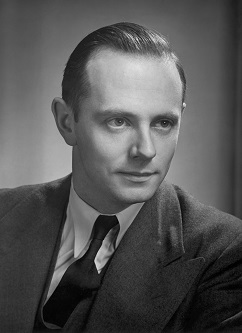 "My father spoke around the world about the community engagement model, he had a life-long interest in northern and remote Canada, among many other interests," says John Steeves. "But above all, he loved teaching—teaching medicine, in particular. That was, I would say, the thing he enjoyed most."
***
The Canadian Conference on Medical Education (CCME) is the premier medical education conference in Canada. It hosts the largest annual gathering of medical educators in the country. We also welcome our international colleagues and other partners including students, other health educators, health education researchers, administrators, licensing and credentialing organizations and governments, to come and share their experiences in medical education across the learning continuum (from undergraduate to postgraduate to continuing professional development).
For more information on how to register, please visit their website.

Many thanks to Dr. Jock Murray for allowing Dalhousie Medical School to use his book, Noble Goals, Dedicated Doctors: The Story of Dalhousie Medical School (Nimbus, 2017), as a source for Dal Med Innovator profiles on historic figures.