»
Go to news main
Impact Players
Posted by
Danielle Lapierre
on May 23, 2018 in
Students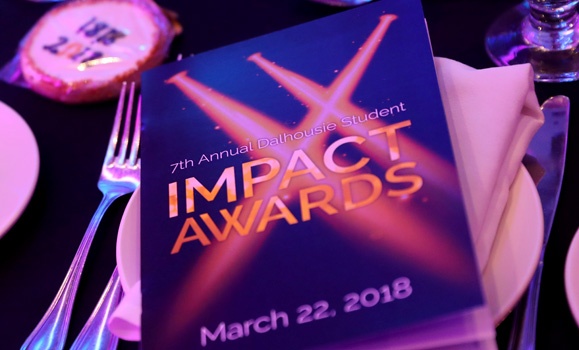 An aura of excitement hung over the crowd in the McInnes Room on the night of March 22 for the seventh-annual Student Impact Awards gala.
As is the case every year, the accomplishments of the award recipients were staggering — from student entrepreneurs and philanthropists to scholars and athletes. These students may be the leaders of tomorrow, but they sure seem like the leaders of right now. 
Listed below are the students, faculty and societies in the Faculty of Medicine who received Impact Awards this year.
OFF-CAMPUS LEADERSHIP AWARD
Awarded to an outstanding off campus student leader who has demonstrated significant leadership, commitment, and service aimed at improving their community.

Loran Morrison, Truro, NS
MOST IMPACTFUL FACULTY SOCIETY
Awarded to a faculty society ratified with the DSU that has best demonstrated consistency in planning and delivery of programming or events, high student participation and attendance of its membership, and sets an example for other student societies.

Dalhousie Medical Students Society
CERTIFICATE OF DISTINCTION
Awarded to students who demonstrate above-average contributions to campus life over the course of a university career.
Meghan Plotnick, Windsor, ON
Brent Young, Sydney, NS
FACULTY LEADERSHIP AWARDS
Awarded to a student in good academic standing in each Dalhousie faculty. These students exemplify the highest level of passion for their discipline, take initiative in creating new opportunities, and encourage their peers to engage in faculty initiatives. Faculty Leadership Award winners positively impact other students in their faculty and the reputation of their faculty at Dalhousie outside of the classroom.
Yaeesh Sardiwalla (medical student), Sydney, NS
Emma Finlayson-Trick (graduate student), Vancouver, BC
A full list of Impact Awards recipients can be found on Dal News