»
Go to news main
Grad Profile: On a mission to improve mother and baby health around the world
Posted by
Melanie Jollymore
on May 28, 2018 in
News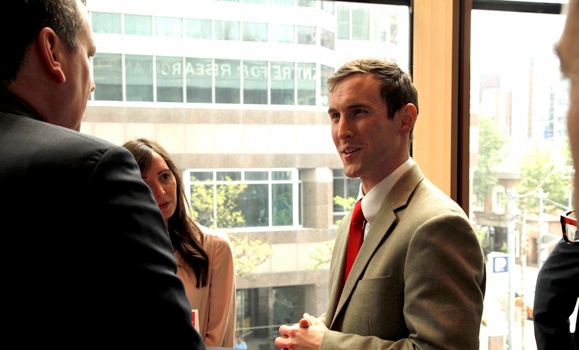 After his experiences in Africa, 2018 Medicine graduate Allan Kember is determined to improve the health of women and their babies in the developing world. The Prince Edward Island native is particularly focused on Ghana, where he did an elective and a clinical trial during his MD training at Dal.

"We tested the PrenaBelt on 200 pregnant women in Ghana," says Allan of his Research in Medicine project, which also involved pilot studies of the PrenaBelt in Halifax and Adelaide, Australia.

A former engineer, Allan designed the PrenaBelt to help minimize how much time pregnant women spend sleeping on their backs. "It's essentially a belly band with a couple of high-density plastic balls that produce uncomfortable pressure points when the woman rolls onto her back," he says. "This prompts her to shift back onto her side, taking pressure off the inferior vena cava."

Pressure on this major blood vessel can reduce nutrient and oxygen flow to the fetus and placenta, raising the risk of low birth weight and stillbirth.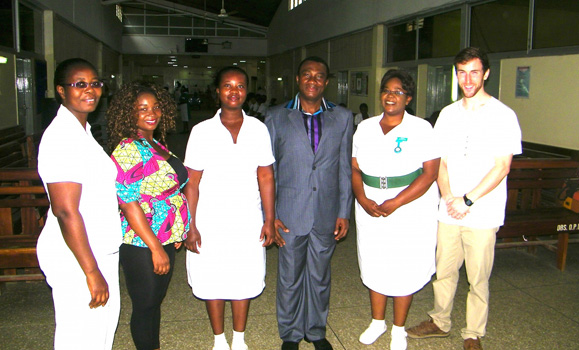 "We observed higher birth weights among babies born to the women who wore the PrenaBelt during their pregnancies, compared to the babies of the women who wore a 'sham' belt," he says. "So it warrants further research and development."
A global perspective
While in Ghana on a clinical elective in obstetrics earlier this year, Kember noticed a much larger problem than low birth weight and even stillbirth. "A young pregnant woman whom I had triaged in the emergency department later died from complications of pre-eclampsia," he says. "Rates of pre-eclampsia are so much higher in Ghana and Africa in general, but it's not known why."

Pre-eclampsia is a pregnancy condition marked by high blood pressure, fluid retention, and excess protein in the urine. It can lead to serious complications, including seizures in the mother and placental abruption, which is when the placenta separates from the uterine wall too early. This may lead to the death of the baby and sometimes of the mother as well.

"In Canada, I didn't see a single case of placental abruption in a six-week ob-gyn rotation," remarks Kember. "In Ghana, I saw four in one shift."

One of Allan's goals is to help uncover the reasons for the high occurrence of pre-eclampsia in Africa, both during and following his upcoming residency in obstetrics and gynecology at the University of Toronto.

The path ahead
When he is done his residency training, Allan will follow whatever career path allows the greatest involvement in international health, he says. His greatest passion of all is still to help the millions of women in the developing world who suffer the humiliation and discomfort of obstetric fistula — a post-childbirth injury that results in urine leaking freely from the bladder into the vagina.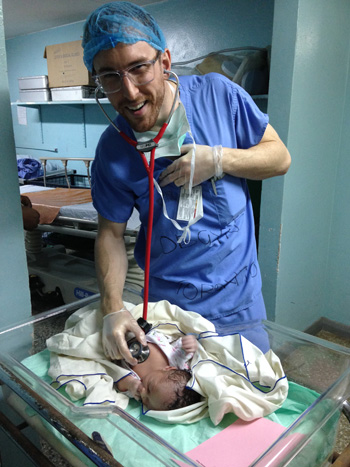 "It's unbelievably prevalent in low-income countries where you have very young, malnourished women giving birth in the absence of prenatal or emergency obstetric care," says Allan, who first learned about fistula when he was an engineering student in Angola building a cable ferry to replace bridges destroyed during the country's civil war. "Once injured, they lack treatment and even absorbent pads… some literally end up huddled in the corner of a mud hut, unable to function and shunned in their communities. It's tragic."

As an engineer-turned-doctor, his goal is to develop a device that stops the flow of urine, non-invasively. As a future ob-gyn, he hopes to play a part in education and capacity-building initiatives to help prevent the injury in the first place. As he notes, "Good prenatal and obstetric care can prevent this gynecological catastrophe."

Allan's extraordinary commitment to women's health overseas has already earned him the Canadian Medical Hall of Fame Award for Medical Students and, in early May this year, the Dr. Ron Stewart Award for Global Health.

He does all of this in spite of his own challenges. In his second year of medical school, Allan was diagnosed with ankylosing spondylitis, an inflammatory autoimmune disease that attacks the central skeleton. But he doesn't let the stiffness in his spine slow him down. Not only is he among Dalhousie's most accomplished medical graduates this year, he is an avid mountain biker who has biked all around the world, recently completing a 2,800-metre climb in Vermont.

No obstacle is too daunting for this determined medical grad, who is clearly set to achieve great things in the coming years.