»
Go to news main
First woman in Canada to become a Dean of Medicine accepts Trailblazer Award
Posted by
Jennifer Lewandowski
on May 31, 2018 in
News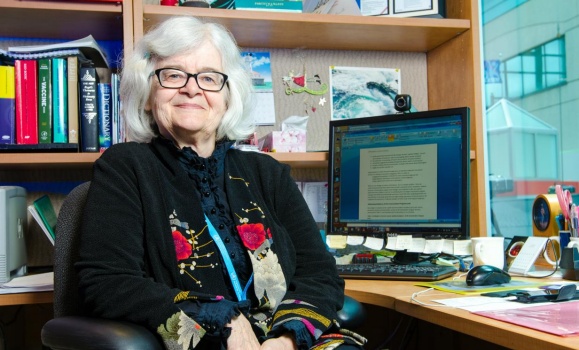 The CIHR Institute of Population and Public Health (CIHR IPPH) recently announced the 2018 recipient of the CIHR-IPPH Trailblazer Award in the senior career category would go to Dr. Noni MacDonald, the first woman in Canada to become a Dean of Medicine at Dalhousie University and a Professor of Paediatrics at Dalhousie University and the IWK Health Centre.
The CIHR-IPPH Trailblazer Award supports early, mid and senior career researchers who continue to make exceptional contributions that promote population and public health for Canadians and citizens around the world through evidenced-based health policies as well as interventions.
Dr. Macdonald's celebrated research involves the study of vaccines; including vaccine safety, hesitancy, pain mitigation, education and policy including consulting work with the World Health Organization.
Other recipients of the CIHR IPPH Trailblazer Award included Dr. Kevin D. Shield (Early Career Award), Assistant Professor in Epidemiology at the University of Toronto and Dr. Janet Smylie (Mid-Career Award), Director of Well Living House Applied Research Centre for Indigenous Infant, Child and Family Health at St. Michael's Hospital in Toronto.
"I congratulate the outstanding efforts of all three recipients to improve population health both in Canada and around the world," says Dr. Steven Hoffman, Scientific Director, CIHR Institute of Population and Public Health. "Drs. Shield, Smylie, and MacDonald have each fostered health programs and policies that help advance health equity. I wish them tremendous success as they implement their discoveries."
For over 30 years, Dr. Noni MacDonald has researched how vaccines are essential to the health and wellbeing of children around the world. She has also studied sexually transmitted diseases and encouraged collaboration in local research for global communities. While vaccines have eliminated diphtheria and polio by 100%, nutritionists and some celebrities question whether mercury used in them cause autism.
"This award warms my heart because it recognizes the totality of my work. I guess you could say I've been devoted to improving health outcomes through research, clinical treatment and education," Dr. MacDonald said.
With recent funding support from CIHR, Dr. MacDonald is a member of the Canadian Immunization Research Network, which trains the next generation of immunization researchers and facilitates knowledge exchange regarding the safety of vaccines between researchers and decision makers. Through Help Eliminate Pain in Kids & Adults (HELPinKids&Adults), she is also trying to develop an implementation program with Niagara Region Public Health that reduces pain and fear among children during school-based mass vaccinations so that they will not refuse vaccines that prevent diseases as adults.
Dr. MacDonald has held many appointments in Canada including creating Paediatrics and Child Health journal and serving as its first editor; and being the Chief of the Division of Infectious Diseases at the Children's Hospital of Eastern Ontario.
In 2008, she co-founded the MicroResearch program in East Africa as a way to build capacity in community focused research that addresses local health problems in developing countries (such as maternity child health) through collaborations among interdisciplinary health professionals. This program is now being used in Nova Scotia.  She has written 400 papers and received numerous awards, including the Canadian Infectious Disease Society Distinguished Service Award, a visiting scholarship to the University of Oxford Institute of Molecular Medicine, the Ross Award from the Canadian Pediatric Society, and University of Ottawa Alumni Award for Community Service.