»
Go to news main
NS Minister of Health announces new family medicine teaching site in North Nova
Posted by
Melanie Jollymore
on July 11, 2018 in
News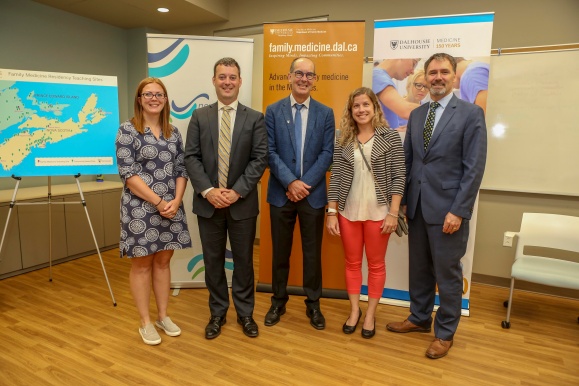 Communities across the northern region of Nova Scotia will have access to more family physicians-in-training in just over a year, when Dalhousie Medical School's newest family medicine teaching site opens on July 1, 2019.
Nova Scotia's Minister of Health and Wellness, Randy Delorey, made the announcement in Truro earlier today—welcome news, on top of the government's previous announcement that it will fund 10 new family medicine residency training spaces in Nova Scotia.
"Nova Scotia needs more family doctors, which means we need more family medicine training spaces," Minister Delorey told the crowd gathered at the Colchester East Hants Health Centre. "Residency spaces are among our best recruiting tools, and are one of several things underway to boost access to family doctors across the province."
The new North Nova Family Medicine Teaching Site will take in six of the new residency positions. Two will be added to an existing site in Cape Breton, and one to the family medicine teaching site in South West Nova. The tenth position will accommodate family medicine residents who wish to complete specialty training in areas such as geriatrics or mental health and addictions.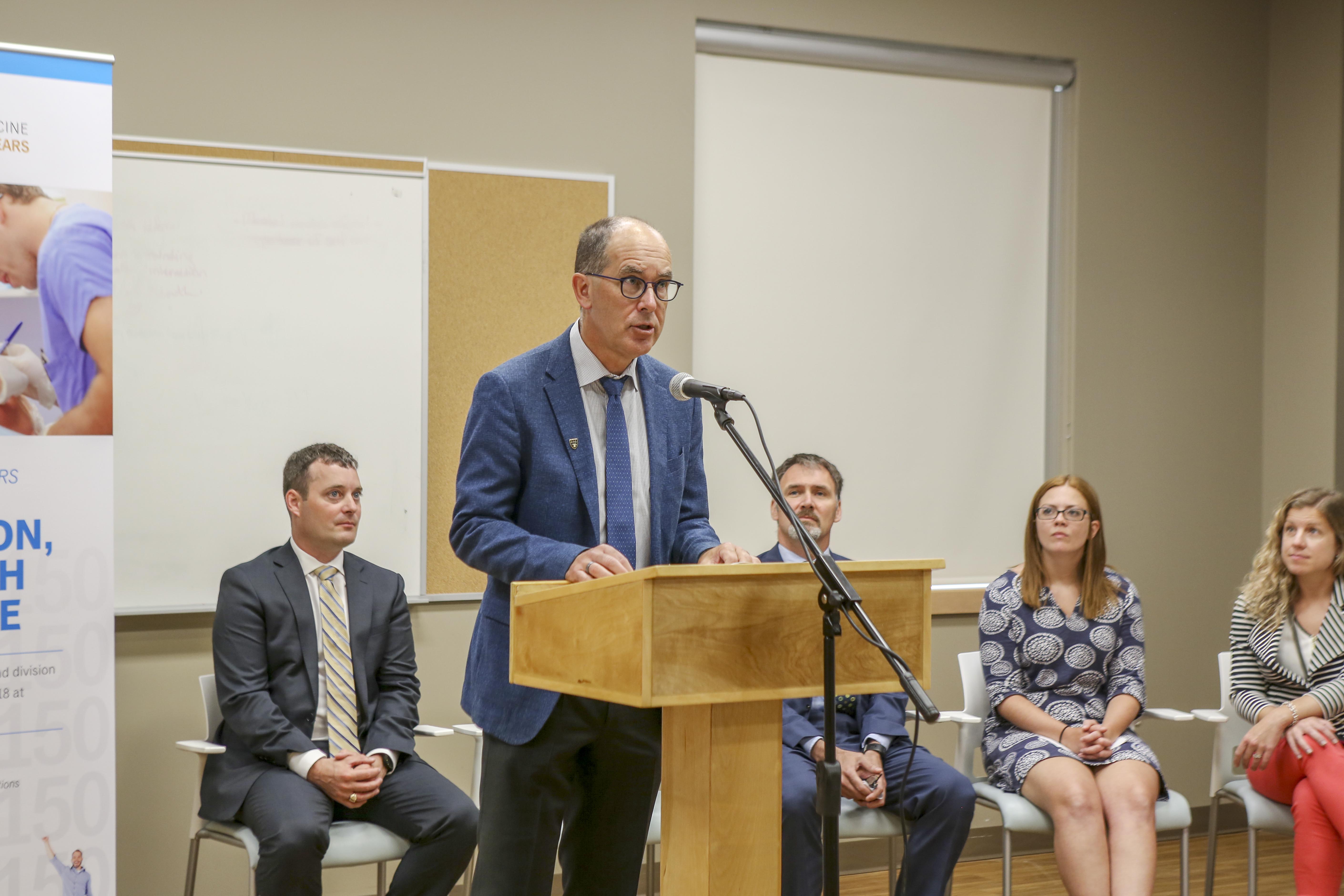 "This is a very important development for Dalhousie Medical School and the province," said Dr. David Anderson, dean of Dalhousie Medical School. "Training physicians in these communities will help meet the immediate health care needs of Nova Scotians, while paving the way to better primary health care access in the future."
Residents who train rural tend to stay rural
Recent history shows that Dalhousie family medicine residents who train in smaller communities in the province are highly likely to stay in Nova Scotia and practice in those same or similar communities. For example, 21 of the 24 residents who completed their training in the Annapolis Valley since a teaching site was established there in 2012 have chosen to stay and practice in Nova Scotia—not just in Valley towns but also in Sheet Harbour, Tatamagouche, Musquodoboit and Port Hawkesbury. In Southwest Nova, four out of the five residents finishing this year have chosen to stay in Southwest Nova.
Dr. Karla Armsworthy, who spoke at the announcement in Truro today, completed her residency training with Dalhousie in 2016 and now practices in nearby Bible Hill.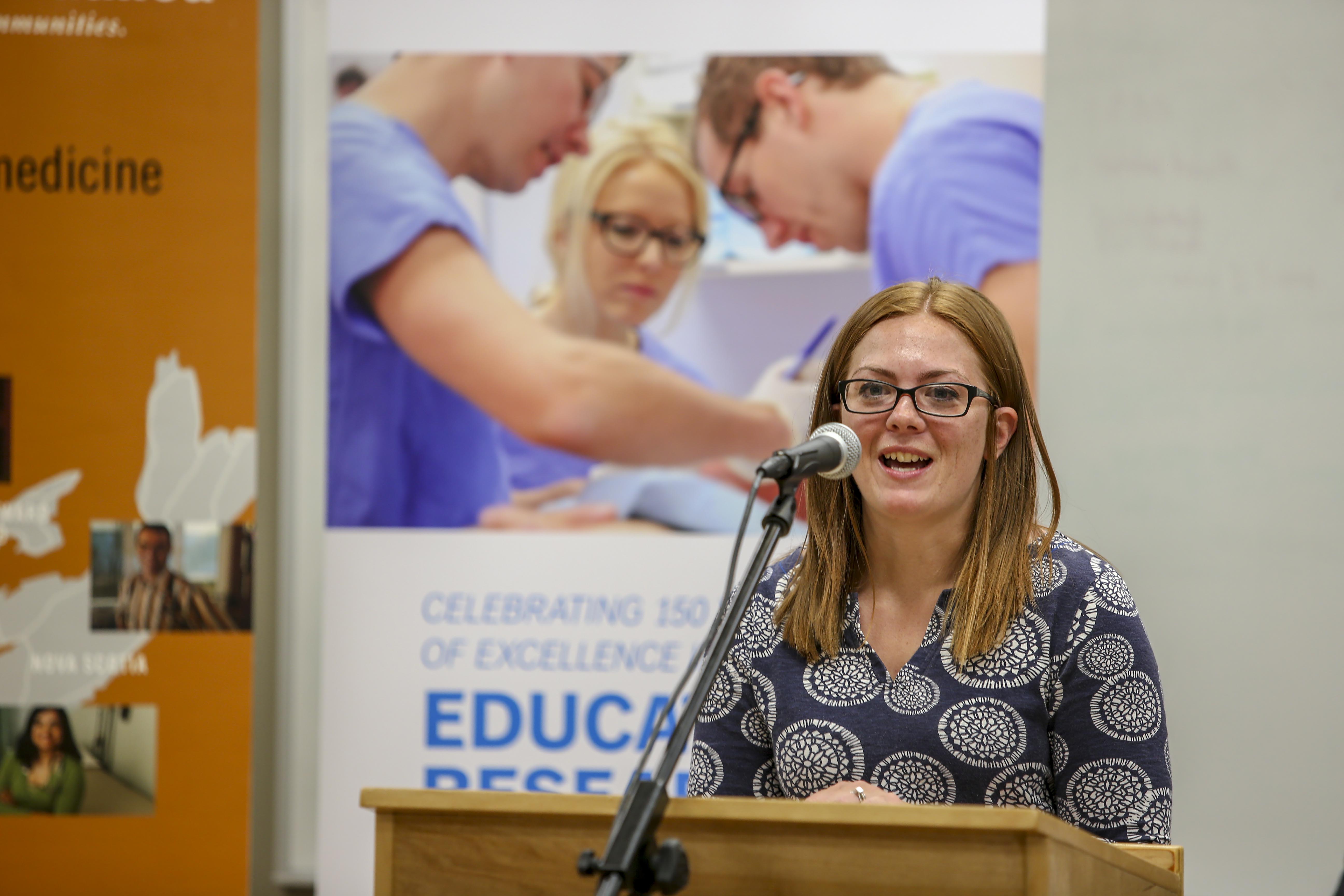 "Working in a community as a family medicine resident makes it much easier to transition to full medical practice in that community after graduation," Dr. Armsworthy said. "I did residency rotations in Truro, so I know the specialists in the area and what kinds of services and supports are available for patients. Setting up my practice has been seamless."
The addition of North Nova brings the total number of family medicine teaching sites in Nova Scotia to five, with preceptors in more than 90 community locations, training approximately 65 family medicine residents in the province throughout the year.
Family physicians and communities in North Nova are enthusiastic about the new training positions and well-prepared to take them on. Residents at the new site will follow a non-traditional "longitudinal curriculum" that will allow them to spend a substantial amount of time in the same family medicine practice for the two years of their training.
"The longitudinal experience will provide these residents with the opportunity to get to know their patients very well over a two-year period," notes Dr. Andrew Warren, Dalhousie's associate dean of postgraduate medical education. "This means they'll be able to care for patients across the entire course of a health scenario—whether that's from the beginning of a pregnancy to the birth and first year of a baby's life, or from the initial presentation of symptoms to diagnosis, treatment and recovery. This will give the residents great insight and a stronger connection to their patients and the communities they're serving."
Rural training offers a wide scope of practice opportunities
Learning the ropes of family medicine in smaller centres provides residents with an exceptionally wide range of clinical opportunities, says North Nova's site director, Dr. Deanna Field, a family medicine and emergency room doctor based at the Colchester-East Hants Health Centre.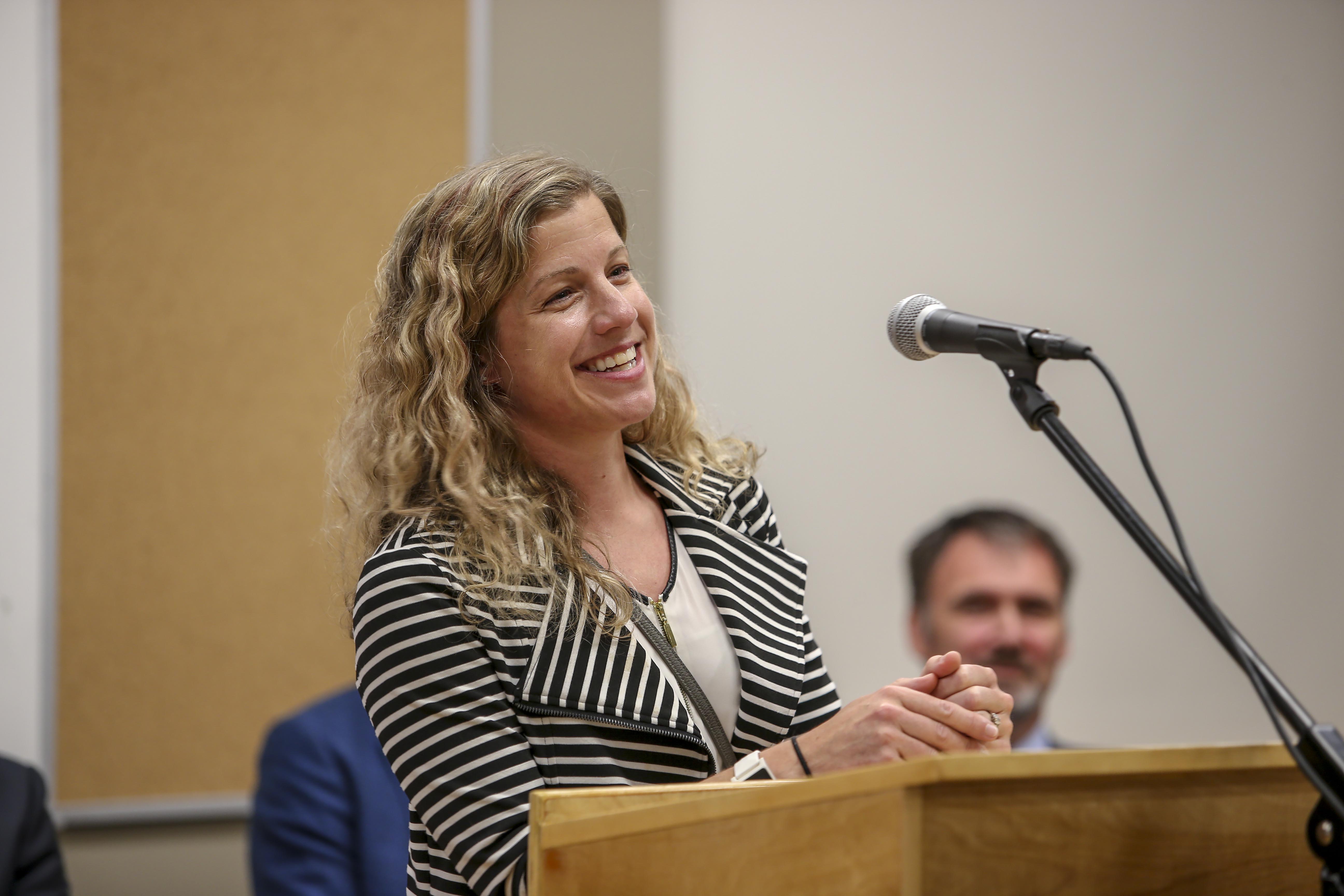 "Our learners will get to do everything, because we do everything," says Dr. Field. "They will work with us to see patients in regular office visits, of course, but also to follow them into hospital to oversee inpatient care, perform minor procedures, and attend births, for example. We also cover emergency room shifts and follow our patients in nursing homes, among other services."
The physician preceptors are excited not just to welcome the new residents into their practices, but also to their communities. "This is a beautiful part of Nova Scotia with amazing beaches and many outdoor activities for young people raising families," notes Dr. Field. "We're hoping many of our residents will fall in love with the area and the people and choose to stay. The fact that we get to train them here bodes well for the future of health care in Nova Scotia."
The new site and additional spaces will open in July 2019. The Government of Nova Scotia's investment will be $3.3 million annually when the program is fully subscribed.